18 Nov 2020
The Italian acromegaly market will more than double in size by 2029, says GlobalData
Posted in
Pharma
Marketed therapeutics for the treatment of acromegaly generated sales of at least $33m in Italy in 2019. The value of this market is expected to more than double, surpassing $75m in 2029, according to GlobalData, a leading data and analytics company.
GlobalData's recently published report, 'Acromegaly and Gigantism: Global Drug Forecast and Market Analysis to 2029', reveals that the size of the Italian acromegaly market will increase at a 10-year compound annual growth rate (CAGR) of 8.6%.
Magdalene Crabbe, Senior Pharmaceutical Analyst at GlobalData, comments: "The Italian market will experience rapid growth because of the launch of oral drugs that promote the activity of somatostatin receptors, which inhibit secretion of growth hormone.
"A particularly promising development has been the progress of Chiasma's Mycapssa (octreotide acetate), which is a synthetic peptide in Phase III of the pipeline. This drug has shown efficacy in clinical trials and is expected to be well received by patients who currently need to be treated with intramuscular or subcutaneous therapies."
Another oral somatostatin receptor agonist in clinical development is Crinetics' paltusotine. This drug is expected to launch in the US and Europe and its once-daily dosing pattern will allow the drug to be advantageous in a market populated by chronic injectables such as Novartis' Signifor (pasireotide) and Pfizer's Somavert (pegvisomant). However, there are disadvantages of oral therapies. One example is that these drugs are rapidly degraded and often poorly absorbed in the gastrointestinal tract.
Crabbe continues: "The market-leading drug in Italy in 2019 was Ipsen's Ipstyl (lanreotide acetate). This highly effective somatostatin analog was the top-selling drug in 2019 because of the low frequency of administration, allowing patients to receive injections once every 4-8 weeks. The entry of late-stage pipeline drugs into the market and continued success of Ipstyl will lead to Italy becoming the fastest growing market for acromegaly out of the seven major markets (7MM*) between 2019 and 2029"
Compared to other European countries such as Germany, Spain, and France, in 2019, Ipstyl was the only long-acting somatostatin receptor agonist available in Italy. This means that the arrival of other subcutaneous therapies that can be injected less frequently than marketed drugs such as Novartis' Sandostatin (octreotide acetate) are in high demand in Italy. Two long-acting somatostatin agonists in the pipeline, Camurus' octreotide LA, and Strongbridge Biopharma's veldoreotide IR are expected to partially address this unmet need.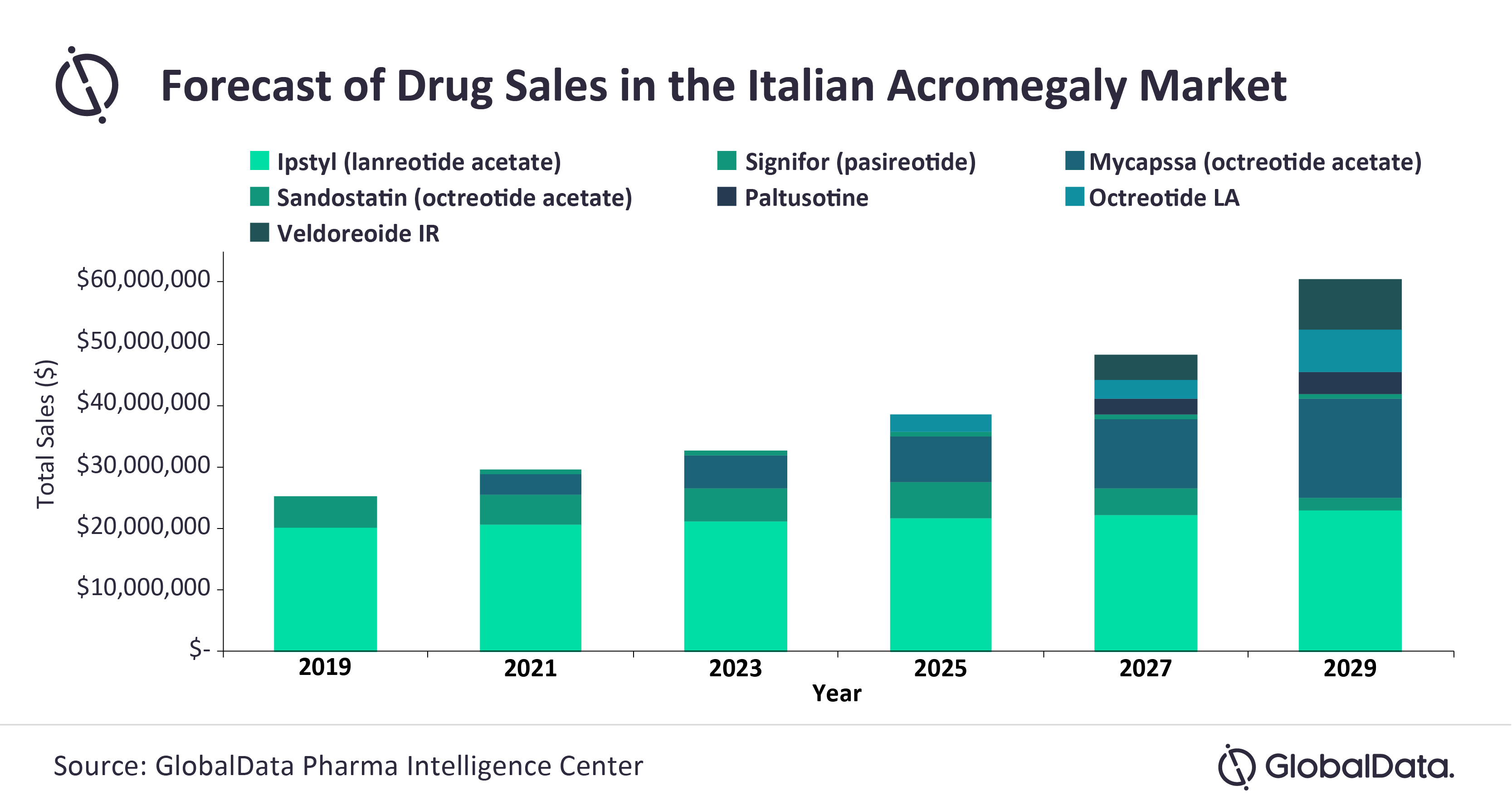 Although some of the pipeline products have more tolerable dosing intervals compared to marketed drugs, this will only partially address some of the issues with pharmacotherapy in the acromegaly market.
One issue is that the somatostatin receptor protein targeted by most drugs in this therapy area is expressed in many tissues around the body. The ubiquitous expression pattern of this receptor is associated with highly prevalent drug-induced adverse events like diarrhea, nausea, and abdominal distention.
Despite the unfavorable effects of somatostatin receptor analogs on the gastrointestinal tract, their efficacy is evident from several findings in clinical trials.
Crabbe concludes: "Like all pharmaceutical products, somatostatin receptor agonists have benefits and drawbacks. However, the potential for these drugs to reduce the likelihood of patients developing diabetes or other severe complications of acromegaly cannot be underestimated."
*7MM: US, France, Germany, Italy, Spain, UK, and Canada