29 Apr 2020
Italy's savings market to stagnate in 2020 as economy comes to standstill, says GlobalData
Posted in
Banking
COVID-19 will have a major impact on the savings and investments market in Italy, hurting retail equity and mutual fundings, while safer retail deposits will see increases, says GlobalData, a leading data and analytics company.
Retail deposits, and, to a lesser extent, bond holdings will fare better after COVID-19 due to consumers opting for safe options. GlobalData expects retail deposits to rise by 5.1% in 2020 (compared to 1.4% pre-COVID-19) and 3.7% in 2021 (1.7% previously).
Heike Van Den Hoevel, Senior Wealth Management Analyst at GlobalData, commented: "Retail deposits are set to benefit from a flight to safety away from risk assets and government support to mitigate the impact of the shutdown."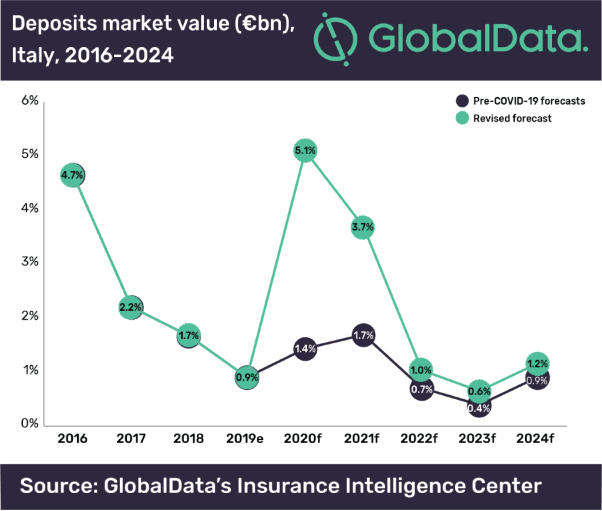 The volatility of the stock market means retail equity and mutual fund holdings are expected to take the brunt of the struggling Italian economy. The FTSE MIB, Italy's flagship index, lost a fifth of its value in March, as the government announced lockdown.
Van Den Hoevel adds: "The index recorded positive growth at the beginning of April off the back of a slowing infection rate in the country. However, the already fragile state of the economy before COVID-19 means that we are expecting a slow economic recovery, which will affect stock market performance and thus retail holdings over the forecast period".
Information based on GlobalData's report: COVID-19 Sector Impact: Retail Savings & Investments – Italy