16 Jul 2020
Leading Dutch insurers dependency on health segment leaves them vulnerable to COVID-19, says GlobalData
Posted in
Insurance
Leading Dutch insurers are vulnerable to COVID-19 claims, as they are very dependent on the health segment. The Dutch life insurance market is extremely concentrated, with the top 10 players making up 94% of its GWP (Gross Written Premium). This means they are vulnerable to the challenge of maintaining investment returns in stagnant or recessional economic conditions, which has occurred from COVID-19, according to GlobalData, a leading data and analytics company.
GlobalData analyst, Deblina Mitra, comments: "In contrast, in a majority of other European countries life insurance is the dominant segment, but only 14% of premiums among the Dutch top 10 are in that segment. However, the top 10 insurers in the Netherlands are very much focused on life and health, with only two of the ten having any real presence in non-life."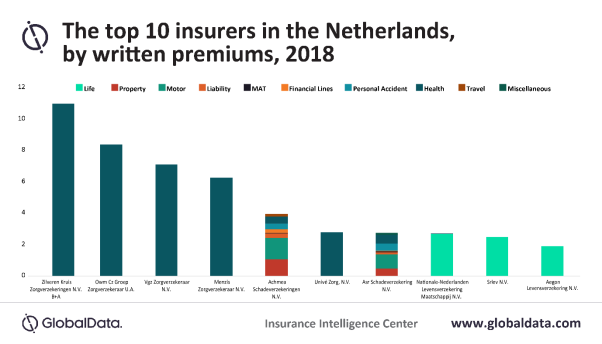 The two non-life insurers in the top 10 – Achmea Shadeverzekeringen and Asr Shadeverzekeringen – have the majority of their premiums in motor and property insurance. The former has 26 and 35% of its premiums in property and motor respectively, while the latter has 19% and 24% in property and motor.
Mitra adds: "Achmea Shadeverzekeringen and Asr Shadeverzekeringen are relatively well-placed in terms of their market shares. Motor ad property lines are certainly not without risk, but people increasingly staying and working from home should see claims fall in the short term. Longer term, the pandemic could see more people drive to work. It could also see renewals fall though, if people continue to work from home, and decide they do not need to renew contents or motor policies. However, these insurers look well-placed to avoid high claims compared to the others in the top 10."