Low value deals (investment <=US$10m) continued to dominate venture capital (VC) investments with 72.9% share in the overall volume in the fourth quarter (Q4) of 2019, according to GlobalData, a leading data and analytics company.
However, the share of low value deals marginally decreased in Q4 2019 when compared to the same quarter in 2018. Among low value deals, the highest number of deals were announced in the range of US$1m-US$5m.
On the other hand, high value deals (>US$10m) were fewer in number compared to low deal values but much larger than in average deal value.
The number of US$100m+ deals volume decreased from 128 in Q4 2019 to 103 in Q4 2019. In contrast, the value of such deals increased from US$26.1bn in Q4 2018 to US$28.8bn in Q4 2019.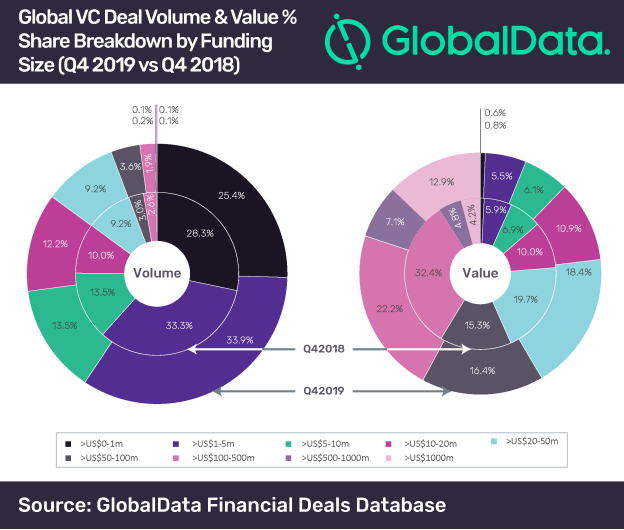 IMAGE FOR PUBLICATION: Please click here for enlarged image
A total of 3,913 deals (with disclosed deal value) worth US$63.7bn were announced during Q4 2019 compared to the announcement of 3,959 deals worth US$58.1bn.
The top five countries by deal volume (the US, China, the UK, India and France) collectively accounted for more than 75% of the total VC investment volume (including VC investments with disclosed funding value).
With ecosystem conducive for start-ups, talent pool and government support, the US and China have been the forerunners as start-up hubs.
The US accounted for 51.8% of total low value deals volume and 53.5% of high value deals. It was followed by China, which accounted for 14.7% of low value deals and 23.5% of high value deals in Q4 2019.
Some of the notable investments in Q4 2019 were mostly from Asia-Pacific including US$3.7bn Series A funding secured by Tenglong Holdings, US$3bn Series F funding secured by Kuaishou Technology, U$1.5bn Series F funding raised by Oravel Stays (Oyo) and US$1b Series G funding in One97 Communications (Paytm).