20 Jan 2020
Millennials a key driver in future sustainability of foodservice, says GlobalData
Posted in
Consumer
Millennials a key driver in future sustainability of foodservice, says GlobalData
Sustainability in foodservice channels is increasingly important, primarily driven by younger generations that are championing such causes. In 2018, 47% of Gen Z consumers stated that ethical and environmentally friendly claims often or always influence their choice of beverage*, as opposed to only 41% in 2016*1. This upward trend suggests that it is critical that foodservice manufacturers move beyond surface-level green practices to incorporate sustainable and ethical production processes from the ground up and highlight further transparency within their supply chains, says GlobalData, a leading data and analytics company.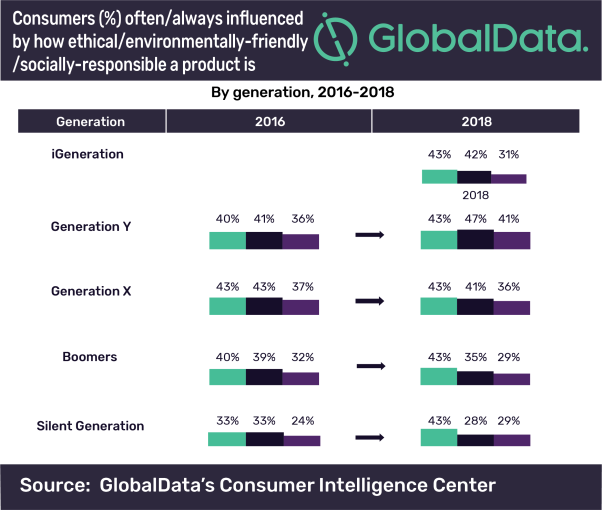 IMAGE Available: Consumers (%) often/always influenced by how ethical/environmentally-friendly/socially-responsible a product is
Globaldata's latest report, 'Foodservice Insights and Trends on Sustainability', reveals that amid the recent 'war on plastics', a number of players are implementing waste-reduction processes, utilizing renewable energy in supply-chain operations and moving toward more sustainable materials for packaging solutions – redesigning products such as plastic straws, cups, sauce sachets and drink-stirrers.
Ryan Whittaker, Consumer Analyst at GlobalData, says: "In the future, the sustainability and ethics mega-trend will increase in relevancy to all foodservice outlet types. Coffee and tea shops will continue to be the most impacted, with key players encouraging consumers to use reusable cups, while innovating beyond plastic for key items including straws and drink stirrers. As of 2018, over 25%* of consumers claim to currently bring their own refillable cups with them when dining out based on environmental consciousness."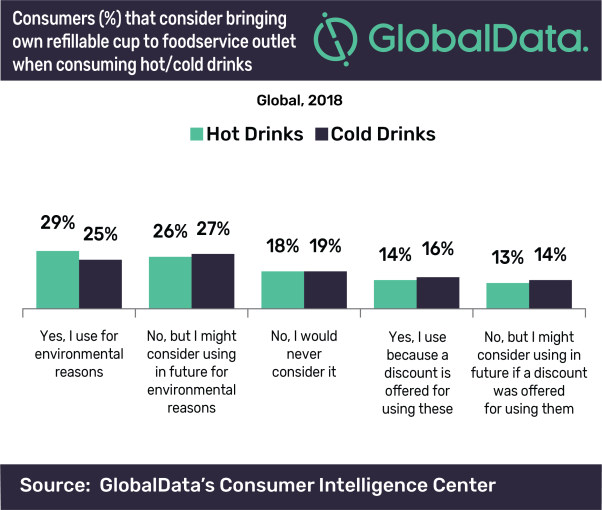 IMAGE Available: Consumers (%) that consider bringing own refillable cup to foodservice outlet when consuming hot/cold drinks
Whittaker adds: "Pret a manger is a key example of a foodservice outlet looking to cater to such sustainability trends, with its announcement in 2019 seeing the chain pledge to make 100% of its plastic products recyclable, reusable or compostable by 2025 to align to new EU policies.
"It is important that brands involve millennials in their environmental and ethical initiatives. They seek incremental and positive change, so donating a portion of profits to relevant causes can work toward attracting both sales and company appreciation."
Information based on GlobalData's report: Foodservice Insights and Trends: Sustainability
*1 GlobalData's 2016 Q3 global consumer survey; *GlobalData's 2018 Q3 global consumer survey