06 Feb 2019
Millennials to drive the rise of digital mortgage brokers, taking market share from incumbents, says GlobalData
Posted in
Insurance
Incumbent mortgage brokers such as John Charcol and Countrywide will face a strong challenge to their market shares over the next five years from digital hybrids after 57% of millennials stated that if they were applying for a mortgage today, they would choose a digital channel, says GlobalData, a leading data and analytics company
According to our 2018 Retail Banking Insight Survey, 70% of first-time buyers are millennials, most of whom are very comfortable using digital channels. Only 37% would opt to speak with a bank representative in-branch and 5% would use a call center.
Sean Harrison, Retail Banking Analyst at GlobalData comments, "After years of unfavorable conditions, the tables have finally turned for first-time buyers. Strong government support combined with rising wage growth and slowing private rental growth has helped more individuals get on the property ladder. The Help to Buy ISA government scheme has resulted in the median age of first-time buyers declining to 27, compared to 30 for those not using the scheme."
UK Finance, a trade association for the financial services sector, recently published figures showing that the number of mortgages issued to first-time buyers reached an all-time high of 96,200 in Q3 2018. In addition, changes to the buy-to-let sector have had a material impact on the supply of housing, benefiting both existing homeowners and first-time buyers.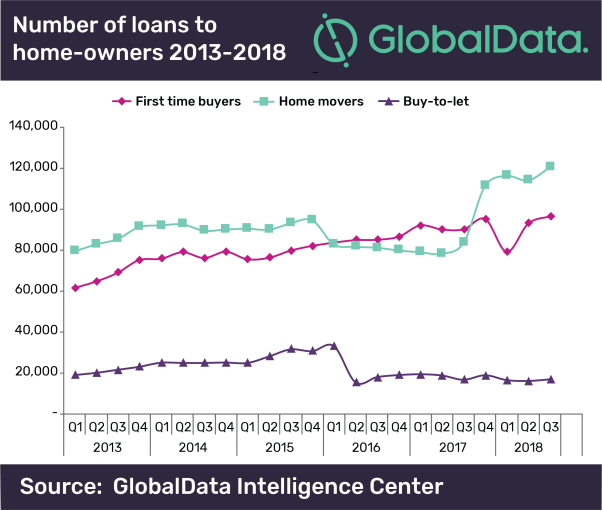 IMAGE FOR PUBLICATION: Please click here for enlarged chart
The combination of improved market conditions and government support, as well as millennials' strong desire to digitally self-serve and seek advice, provides new entrants such as Habito and Trussle with strong growth opportunities. Both follow a hybrid model, whereby customers can digitally self-serve up to key points in the application and are then contacted by a representative to reassure customers and provide decision support.
Harrison continues, "Allowing customers to digitally self-serve provides them with transparency and confidence that they are getting the best deal currently available to them. Both brokers offer complete control over the mortgage journey, allowing users to track each and every stage of their application and speak to a representative through a live-chat tool.
"The ability of customers to digitally self-serve and interact with advisors when they have queries or need to make qualitative judgements is better suited to the channel and buying preferences of millennials."