20 May 2019
Neurotransmission and ion channel targeting programs dominate the pain pipeline, says GlobalData
Posted in
Press Release
The pain pipeline is large and contains a high level of diversity of molecular targets, although the level of first-in-class innovation is low when compared to other therapy areas and the industry as a whole. Presently, 23% of products in the pain pipeline are first-in-class, indicating a relatively low level of innovation, according to GlobalData, a leading data and analytics company.
The company's recent report, 'Pain: GPCR and Nerve Growth Factor-Based Therapies Offer Strong Potential in Difficult-to-Treat Subtypes' reveals that while the overall level of first-in-class innovation is low, there are promising first-in-class targets in the pain pipeline with strong therapeutic potential.
Mark Needham, Associate Pharma Analyst at GlobalData, says: "After assessing all first-in-class molecular targets in the pain pipeline and ranking them based on the commercial potential, we found neurotensin receptor 1 (NTSR1) to have the highest potential. Scientific studies in chronic pain modulation indicated that NTSR1 agonists reverse nociceptive behaviors of neuropathic pain. It has also been implicated in the suppression of visceral pain. Other first-in-class targets with strong therapeutic potential include those targeting G protein-coupled receptors and nerve growth factors."
GlobalData's report also finds that 909 products are in active development, although the majority are in early stage development; 535 products are in the discovery and preclinical stages. There are 161 first-in-class programs in the pipeline across all pain subtypes, acting on 104 first-in-class molecular targets.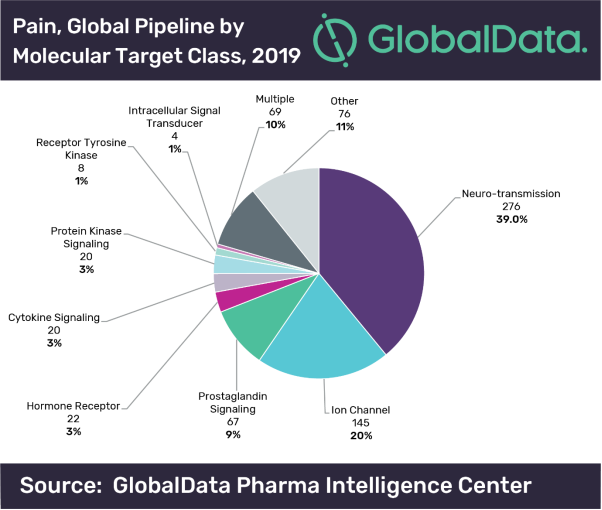 IMAGE FOR PUBLICATION: Please click here for chart
As shown in the figure above, drugs targeting neurotransmission and ion channels are the most commonly targeted accounting for 59% of the overall pipeline. Programs targeting prostaglandin signaling are also prominent, comprising 9% of the pipeline. The remainder of the pipeline is made up of smaller target families, such as hormone receptor, cytokine signalling and protein kinase signaling.