23 Jan 2020
North America continues to dominate the venture capital funding activity despite decline in volume and value in Q4 2019
Posted in
Press Release
North America experienced a dip in venture capital (VC) investments; however, the region continued to attract the highest number of investments and funding during the fourth quarter (Q4) of 2019, according to GlobalData, a leading data and analytics company.
The region experienced a decline in VC investments from 2,700 deals worth US$29.9bn in Q4 2018 to 2,237 deals worth US$29.13bn in Q4 2019.
Aurojyoti Bose, Lead Analyst at GlobalData, says: "The reasons for slowdown are growing investor cautiousness in the US on the backdrop of volatile trade relations with other countries and political uncertainty due to the impeachment trial of the US president and the upcoming presidential election."
Despite the weak funding activity, North America has seen some notable deals during Q4 2019 including US$650m secured by Quibi Holdings, US$635m secured by Bright Health, and US$566.5m secured by Citizen Energy.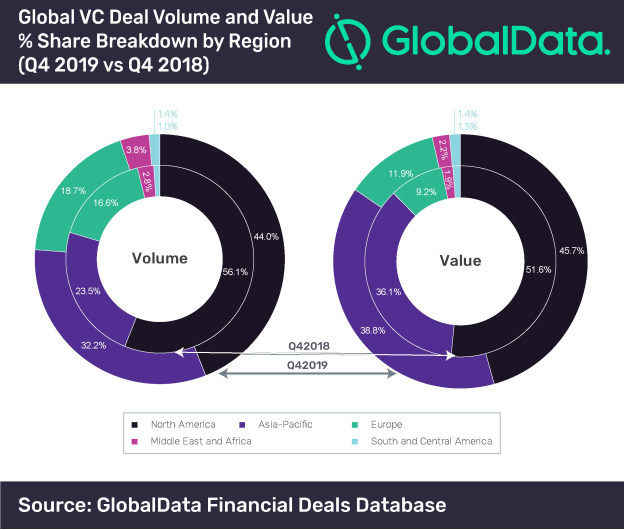 IMAGE FOR PUBLICATION: Please click here for enlarged chart
In contrast, the Asia-Pacific region saw an increase in VC volume and value from 1,133 deals worth US$20.9bn in Q4 2018 to 1,635 deals worth of US$24.7bn in Q4 2019.
Top deals announced in this region during Q4 2019 included US$3.7bn secured by Tenglong Holdings Group, US$3bn secured by Beijing Kuaishou Technology, Ltd. and US$1.5bn secured by Oravel Stays Private Limited.
China saw an increase from 664 deals worth US$15.4bn in Q4 2018 to 945 deals worth of US$15.4bn in Q4 2019. India saw an increase from 180 deals worth US$2bn in Q4 2018 to 258 deals worth US$5.8bn in Q4 2019. Japan also saw an increase from 47 deals worth US$238m to 102 deals worth US$654.6 million.
Europe witnessed an increase from 797 deals worth US$5.3bn in Q4 2018 to 948 deals worth US$7.6bn in Q4 2019.
Top deals announced in this region during Q4 2019 included US$290m secured by Celonis GmbH, and US$220.3m by Picnic B.V.
The UK saw an increase in deal volume from 296 deals Q4 2018 to 312 deals in Q4 2019. However, there was a decrease in the deal value from US$2.2bn in Q4 2018 to US$2.1bn in Q4 2019.
Germany saw a massive increase from 94 deals worth US$803.6m in Q4 2018 to 171 deals worth US$1.68bn in Q4 2019. France also witnessed an increase from 66 deals worth US$555.4m in Q4 2018 to 122 deals worth US$1.8bn in Q4 2019.
Even the Middle East and Africa regions has seen an improvement in VC funding activity from 135 deals worth US$1.1bn in Q4 2018 to 191 deals worth 1.4bn in Q4 2019.