25 Nov 2020
North America dominated global VC funding landscape during Q3 2020, while APAC emerged as bright spot
Posted in
Business Fundamentals
Global venture capital (VC) funding activity fluctuated during the third quarter (Q3) of 2020 due to inconsistent growth among different regions. However, North America continued to maintain its dominance, according to GlobalData, a leading data and analytics company.
The number of VC funding deals that were announced globally declined from 1,787 in July to 1,531 in August before rising to 1,683 in September 2020. While deal activity declined across the regions in August, Asia-Pacific (APAC), Europe and Middle East and Africa witnessed a rebound in deal activity in September. North America and South and Central America continued to witness the declining trend; however, North America managed to account for the highest share of deal volume during the quarter.
North America experienced a dip in VC funding volume from 688 deals in July to 675 deals in August and 535 deals in September. The region accounted for 38% of global VC investment volume in Q3 2020, followed by APAC with 35.8% and Europe with 20.6% share. Middle East and Africa, and South and Central America garnered 4.1% and 1.6% shares of VC investment volume, respectively.
Aurojyoti Bose, Lead Analyst at GlobalData, says: "While North America witnessed a decline, but remained the dominant region, APAC and Europe emerged as a bright spot with a significant jump in deal volume and corresponding share in September. This could be indicative of a revival of investor optimism in some of the key markets such as France and China, in these regions."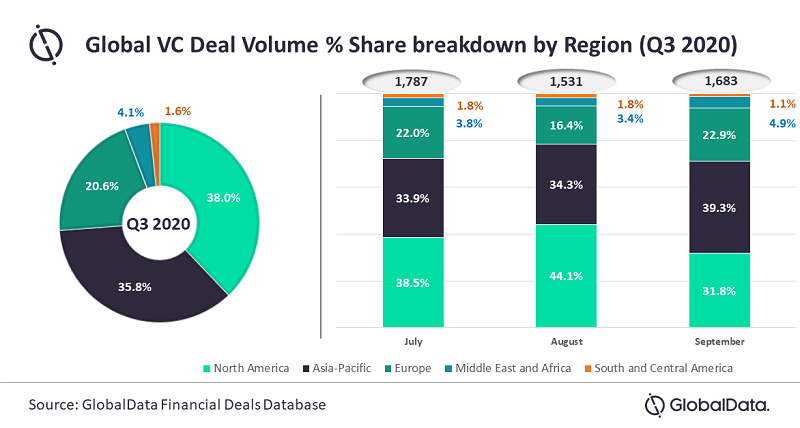 VC deal volume increased by 25.9% and 53.4% in September, compared to the previous month for APAC and Europe, respectively. In terms of share of VC investment volume, APAC was the only region that witnessed consistent growth in its share during the months in Q3. APAC's share of announced VC funding deals grew continuously from 33.9% in July to 34.3% in August, and 39.3% in September.