27 Nov 2020
Pancreatic ductal adenocarcinoma diagnosed incident cases set to reach 225,000 in 2029
Posted in
Pharma
The burden of diagnosed pancreatic ductal adenocarcinoma (PDAC) is expected to increase at an annual growth rate (AGR) of 2.60% from around 180,000 cases in 2019 to 225,000 cases in 2029 in the eight major markets (8MM*), according to GlobalData, a leading data and analytics company.
GlobalData's latest report, 'Pancreatic Cancer – Epidemiology Forecast to 2029', reveals that the increase is partly attributed to the moderately rising trend in incidence in the 8MM, combined with underlying demographic changes in the respective markets.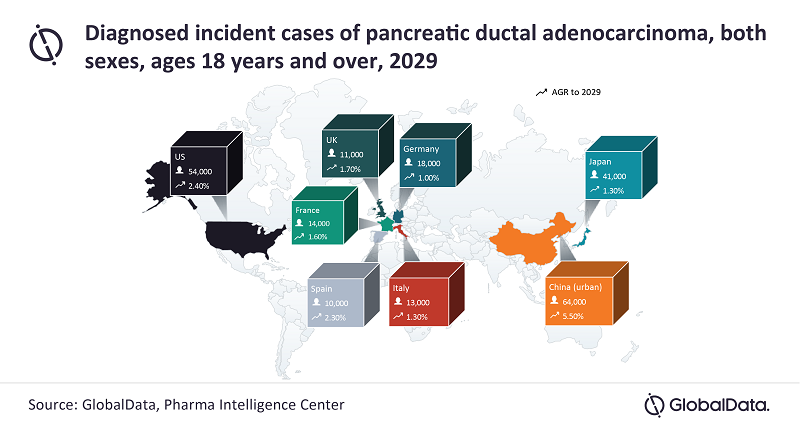 In the 8MM, most PDAC cases were diagnosed in stage IV, which has a low survival rate. In 2019, 68% of PDAC cases diagnosed were in stage IV and 5% of cases were in a more favorable stage (stage I).
Bishal Bhandari, Senior Epidemiologist at GlobalData, comments: "It is worrying that so many patients with PDAC were diagnosed in the unfavorable stage, as these patients require aggressive therapy to get the cancer under control. As such, there is a need for diagnostic tools to detect PDAC at an earlier stage, and treatment priorities should also be aligned to address this aggressive form of cancer."
PDAC is the most common type of pancreatic cancer, making up 85% of all pancreatic cancer cases. The five-year diagnosed prevalent cases of PDAC are expected to increase in 2029 from the current level in 2019.
Bhandari adds: "The aging and increasing population, combined with moderately rising trend in the incidence in the 8MM, suggests that the overall number of people with PDAC will continue to increase even with the poor survival of PDAC cases."
*8MM: The US, France, Germany, Italy, Spain, the UK, Japan, and urban China