12 Mar 2019
Partnerships will be essential for success in the cyber insurance market in 2019
Posted in
Press Release
Cyber insurance penetration increased by 14 percentage points among UK SMEs in 2018. Yet the market is far from saturated, with considerable growth set for the coming years, according to GlobalData, a leading data and analytics company.
The company's latest report, 'Thematic Research: Cyber Insurance', states that the global cyber insurance market is poised for significant growth. The US cyber insurance market is far more developed than its European counterpart in terms of size, and could be seen as an indicator of the full potential the European market holds.
Daniel Pearce, Insurance Analyst at GlobalData, comments: "A combination of high-profile cyber incidents and stricter data protection regulations have helped drive increased uptake of cyber insurance globally.
"Within the UK, one area that will prove to be a hotbed of growth for the cyber insurance market is SMEs. Current uptake of cyber insurance is still relatively low compared with other commercial insurance products, but growth has and will continue to occur, with the number of SMEs holding a standalone cyber insurance policy rising by 14 percentage points in 2018."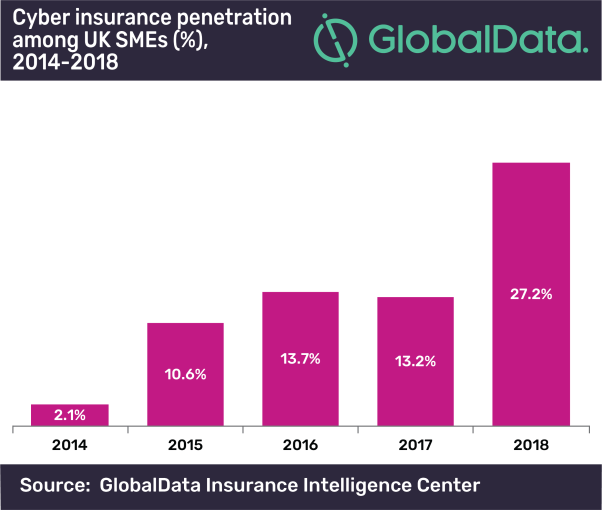 IMAGE FOR PUBLICATION: Please click here for enlarged chart
The insurance industry will experience considerable disruption throughout the value chain as the cyber insurance market grows globally. The complexity and continuous evolution of the risks faced by those providing cyber insurance make it extremely challenging to fully understand and mitigate against. As a result, partnerships with those outside of insurance – in particular cyber security providers – will be fundamental to providing policyholders with an adequate level of cover.
Pearce continues: "The main area in which partnerships will prove essential is in the claims environment. Failure to effectively manage the fallout following a cyber incident can result in the associated costs spiraling. Partnerships with cyber security experts will reduce the possibility of mismanagement, reducing the costs for both the affected business and the insurer."
Information based on GlobalData's report Thematic Research: Cyber Insurance.