13 Jan 2021
PepsiCo's 10,000 job postings show increased focus on digitalization and innovation
Posted in
Business Fundamentals
PepsiCo's jobs postings indicate that the company is leveraging increased at-home consumption patterns through a consumer-centric approach. GlobalData, a leading data and analytics company, notes that a significant number of jobs postings by PepsiCo in the past year were to strengthen supply chain capabilities, product research and innovation.
Ajay Thalluri, Business Fundamental Analyst at GlobalData, comments: "According to GlobalData's Job Analytics database, 3,500 of the 10,000 jobs posted by PepsiCo in the second half of 2020 were related to 'innovation' or 'digital' keywords. That's a huge one in every five job postings for the whole year."
For the period from Feb-May 2020, job closures were significantly higher than postings. This potential reaction to the initial wave of lockdowns was followed by recovery in June with the company posting over 1,200 jobs, a 76% increase when compared to May 2020. The H2 2020 postings are also up from around 8,700 seen in the first half of the year."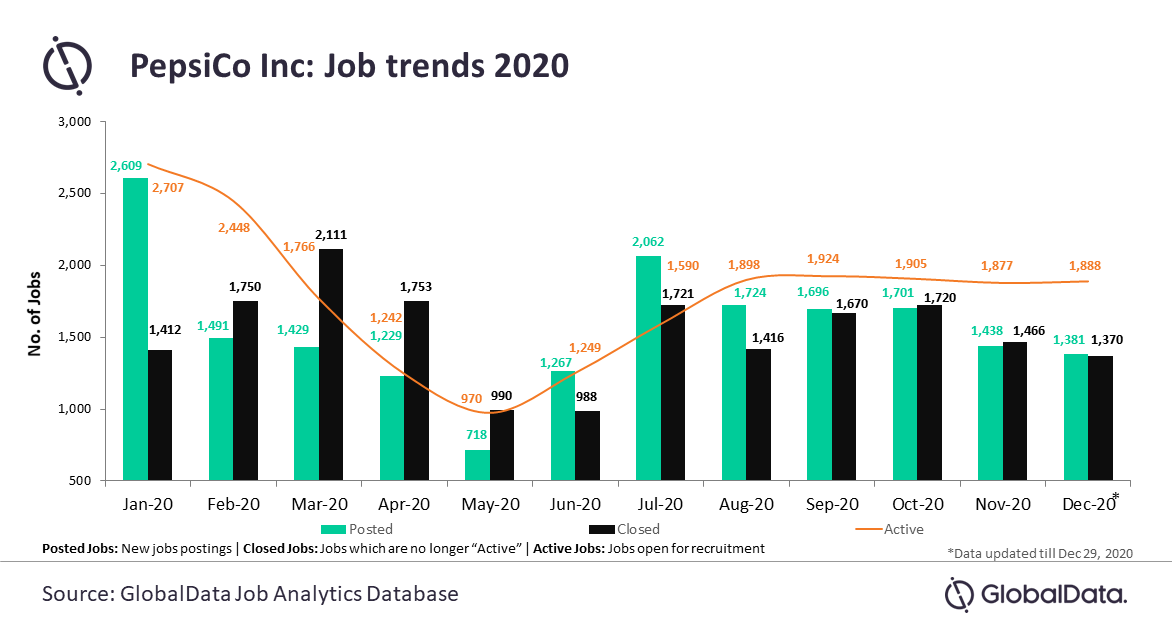 Multiple senior-level jobs such as 'Commercial Digital Solutions Director' were posted in countries across Europe to help the PapsiCo create advanced digital sales solutions and platforms. The company also posted direct-to-consumer (D2C) related jobs in geographies such as Russia, China, Slovenia, and India.
Sumit Chopra, Director of Consumer Research at GlobalData says: "COVID-19-induced changes in consumer behaviour and growing at-home consumption will prove to be beneficial to some food sectors. This may just help PepsiCo mitigate some of its losses – for example due to lower demand in industries such as non-alcoholic beverages. PepsiCo has taken some important operational steps ranging from the launch of two D2C websites to the mitigation of business challenges – as reflected in its hiring activity for D2C, ecommerce and social media roles. These steps should help strengthen the company's distribution and supply system."
Ajay Thalluri, Business Fundamental Analyst, says: "PepsiCo has paced up hiring since Q3, focusing more on digital transformation and creating multiple ways to engage with consumers. Its job postings include roles for research, analysis and packaging design. Furthermore, PepsiCo is hiring a senior director for its data acquisition centre to manage opportunities and innovation with data providers, internal customers, enterprise data management and governance teams."
Sumit concludes: "PepsiCo's hiring initiatives are targeting key themes such as sustainable packaging and product innovation to ensure they are reacting to changing consumer demand during the pandemic – but more importantly moving towards creating a future-proof business strategy."