10 Dec 2019
Pharma executives have faith in AI to solve the R&D optimization puzzle, says GlobalData
Posted in
Pharma
The global pharmaceutical industry spends a significant amount of revenue on research and development (R&D) activities that are failing to deliver projected returns. A recent survey by GlobalData, a leading data and analytics company, has revealed that digital transformation with artificial intelligence (AI) at the forefront is seen as a major step forward towards enhancing R&D productivity and effectiveness.
GlobalData's latest report, 'Digital Transformations and Emerging Technologies in the Healthcare Industry – 2019', highlights that 48% of surveyed pharma professionals believe that R&D will see the most benefit from digital transformation, as compared to other activities. The survey also showed that AI (39%) and big data (23%) are expected to disrupt and transform the pharma sector the most over the next two years. According to survey results, these two technologies will also continue to dominate as investment targets in the near future.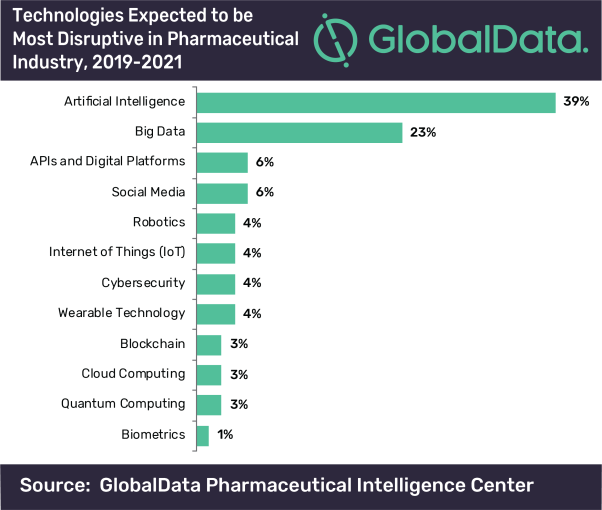 IMAGE available: Technologies expected to be most disruptive in pharmaceutical industry, 2019-2021
Urte Jakimaviciute, Senior Director of Market Research at GlobalData, commented: "Efficient and effective R&D is critical to a long-term success of any pharmaceutical company and therefore is under constant pressure to improve its productivity. Drug development is a very expensive and time consuming process followed by high risks and an uncertain success rate. The data obtained from the recent survey just confirms that pharma seeks for solutions and in fact sees digital transformation as one of the ways to control skyrocketing R&D costs."
The pharmaceutical industry is facing multiple pressures coming from competitors, regulators, healthcare systems and consumers who want to impose greater transparency, accountability and price control. At the same time, pharma companies must satisfy investors who expect profit growth. The need to optimize return on investment is forcing pharma to rethink its strategies, adopt innovations, and chose technology providers to collaborate with.
Jakimaviciute continues: "There have been numerous discussions around AI's power to disrupt the pharma sector, and a lot of buzz around when and who will successfully commercialize the first AI generated drug. However, the reality is that the adoption of AI in pharma is still in quite early stages – meaning that will take time for AI to produce tangible outcomes due to trial and error experimentation that comes with it. While no AI generated drugs have reached the market yet, AI application have been successful in fields such as diagnostic imaging and radiotherapy which is already a big step ahead. AI will eventually find its position in pharma's value chain and strengthen the R&D, the question is how, when and at what cost?"
"According to the 'Emerging Technology Trends Survey – Pharma 2019', survey completed by GlobalData in July 2019, the majority of technology implementation leaders named cybersecurity, cloud computing, big data and blockchain as the main areas of investment which suggests that IT and businesses strategies are not well aligned. While pharma executives may see digital transformation as a way to optimize R&D, it seems that technology leaders tend to prioritize infrastructural development. This lack of coordination within organization can prove to be costly and slow down the innovation process as it may push the businesses to different directions."