25 Nov 2020
Post-Brexit food safety standards present ethical opportunity for UK brands
Posted in
Consumer
Despite UK MPs rejecting an amendment that would have ensured food from future trade deals would meet current UK food safety and animal welfare standards, attitudes around ethics and the environment could provide a lifeline for British brands following Brexit, says GlobalData, a leading data and analytics company.
Hardships relating to the COVID-19 pandemic have not significantly reduced consumers' interest in local, ethical or sustainably sourced ingredients. GlobalData's most recent consumer survey, published on November 10th, found that 51% of UK consumers consider sustainable or ethical ingredients as important as before the pandemic, while over a third of consumers (34%)** said that such claims matter more to them now as a result of the pandemic. For UK millennials, the demographic most associated with the eco movement, 45%** reported an increase in priority."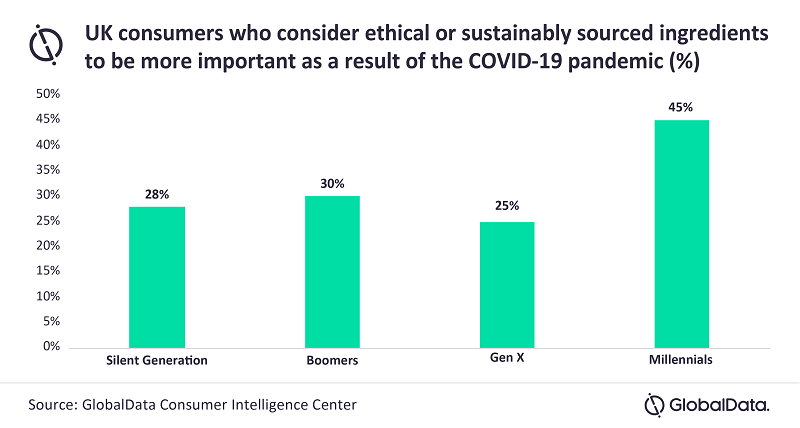 Ryan Whittaker, Consumer Analyst at GlobalData, comments: "To date, most press discourse around Brexit food safety standards has focused on consumers' concerns regarding chlorinated chicken, beef hormones and cheap meat from American-style industrial farms. However, the interest in more ethical and environmental consumption continues unabated. Ethical and environmental concerns have had a notable impact on UK FMCG sales and innovation in recent years, and our data suggests that these attitudes will remain influential after Brexit as a result of both progressive and conservative tendencies.
"While millennials lead this progressive charge, we see notable increases in these attitudes across all generations. This wider trend also overlaps with the lower carbon costs and perceived higher ethical qualities of local produce; in fact, GlobalData also found that 44%** of UK consumers report that locally sourced ingredients are more important to them as a result of the pandemic. Local companies that sell to these consumers should be sure to market their local, ethical and environmental credentials after Brexit to remain relevant."
*GlobalData's COVID-19 Recovery Tracker – UK – published November 10
**GlobalData's COVID-19 Recovery Tracker – published November 10 – combining answers "It is now my top priority"; "significantly more important than before" and "slightly more important than before"