23 Sep 2020
Pulmonary arterial hypertension set to increase to 68,200 cases in 7MM by 2029, says GlobalData
Posted in
Pharma
The diagnosed prevalent cases of pulmonary arterial hypertension (PAH) in the seven major markets (*7MM) is expected to increase from 67,400 cases in 2019 to 68,200 cases in 2029, at an annual growth rate (AGR) of 0.13%, according to GlobalData, a leading data and analytics company.
The company's latest report, 'Pulmonary Arterial Hypertension: Epidemiology Forecast to 2029,' reveals that the US is expected to have the highest number of diagnosed prevalent cases in the 7MM with 27,200 cases, followed by Spain with 14,700 cases. Japan, with the lowest, will have 2,000 cases. In the *5EU there were 38,100 cases in 2019.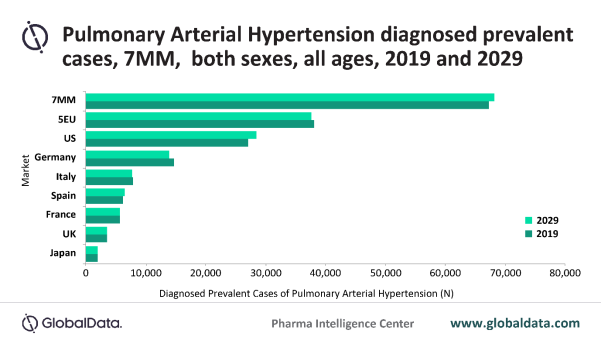 Bharti Prabhakar, Senior Epidemiologist at GlobalData, says: "Due to rates being held constant over the forecast period for all the 7MM, the major drivers for the upward trend in diagnosed prevalent cases over the next decade can be attributed to changes in underlying population demographics. The geographic variability in incidence and prevalence may be a consequence of different diagnostic capabilities and also the variation of the distribution of risk factors across regions."
The risk of PAH in individuals increases with increasing age and is more common in middle-aged adults. With the increasing aging population worldwide, the number of prevalent cases of PAH is expected to rise in the near future, which will burden already strained healthcare systems.
Bharti concludes: "In the past decade, there have been major advances in the understanding of the mechanism of disease development, diagnostic process, and treatment of PAH. However, patients with PAH are still referred to physicians late in the disease process at a time when hemodynamic abnormalities are at an advanced stage. The survival rates for PAH, although still low, appear to have improved compared with historical estimates. Continued efforts are required to improve the management of patients with PAH and to understand the epidemiology trends over time."
*7MM = US, 5EU (France, Germany, Italy, Spain, UK) and Japan