26 May 2020
Rapid Growth in Global Development of Cancer Cellular Immunotherapies Highlighted by Latest Report from Cancer Research Institute and GlobalData
Posted in
Pharma
A new report, published in Nature Reviews Drug Discovery, reveals that the cellular immunotherapy landscape continues to expand, with 472 more cellular therapies in development now than one year ago
Of all cellular therapies, preclinical and Phase 1 development of allogeneic (off-the-shelf) therapies increased the most from last year
Natural killer cells are being investigated in clinical trials to potentially repurpose them to treat novel coronavirus patients
United States and China dominate the cancer cellular immunotherapy pipeline globally, with a similar number of agents in development, but China leads the United States in conducting cellular immunotherapy trials in oncology
NEW YORK and LONDON, May 26, 2020 – The Cancer Research Institute (CRI) and GlobalData announced today the publication of an updated report on clinical development of cancer cellular immunotherapy trends that leveraged data from GlobalData's Pharma Intelligence Center platform. The 2020 report, "Cancer cell therapies: The clinical trial landscape," was published in Nature Reviews Drug Discovery, following the second report published in May 2019.

The new report, which includes data as of March 2020, highlights the rapid growth in the development of cellular immunotherapy in both the preclinical and clinical development stages compared to the 2019 report. Specifically, the current global cellular immunotherapy pipeline includes 1,483 active agents – 472 more in development than one year ago.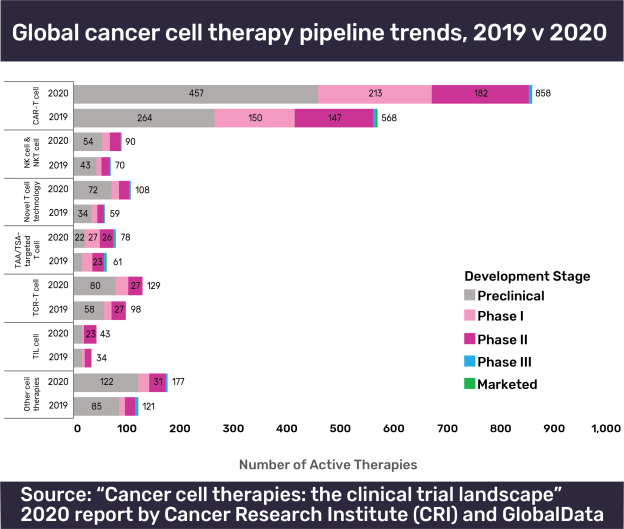 A majority of cellular therapies (667) currently disclosed to be in development are autologous, which involves using a person's own cells, but the greatest percent increase has been in preclinical (73.8% increase from 2019) and phase 1 (90.9% increase from 2019) development of disclosed allogeneic (off-the-shelf) therapies.

"While it is very likely that the momentum for clinical trials for cellular immunotherapies in oncology will be impacted by the COVID-19 pandemic, advances in cellular immunotherapy remain important as some of these agents, such as Natural Killer cells, are being investigated in clinical trials to potentially repurpose them to treat novel coronavirus patients," said Vanessa Hubbard-Lucey, Ph.D., MBA, director of the CRI Venture Fund and Anna-Maria Kellen Clinical Accelerator and co-author of the cancer cellular immunotherapies landscape publication.

CAR-T cell therapies not only dominate the cancer cell therapy pipeline, but also have shown the largest increase of 290 agents in development this year compared to the increase of 164 agents last year – a growth of 77%.

"It is very important that growth in CAR-T cell therapies was seen in phase 1 and phase 2 assets as well. This gives us a hope that some of these therapies will progress in phase 3 and eventually be available for treating cancer patients," commented Revati Tatake, Ph.D., global director of databases and analytics at GlobalData. "Another very encouraging sign is to see increase on novel T cell technology-based therapies in 2020 as compared to the 2019 pipeline, with three assets in phase 3 in the 2020 pipeline."

The United States and China dominate the cancer cellular immunotherapy pipeline and clinical trials. The two countries have a similar number of cellular immunotherapy agents in development (600 and 508, respectively), but China has more trials in progress than the United States (871 vs. 718).

"It is encouraging to see such notable upward trends this year in the types of therapies in the pipeline, the proteins that are being targeted for blood and solid cancers, and geographies where these therapies are being developed," added Hubbard-Lucey.

"We are pleased to collaborate with the Cancer Research Institute to contribute essential data to the 2020 report on the landscape of drug development and clinical trials of cancer cellular immunotherapies, which represents the largest number of active agents in development in the field of immuno-oncology," added Tatake, "It's exciting to see that this field is increasingly exploring more off-the-shelf therapies as an additional option to benefit a wider patient population."

Other key findings from the 2020 report, include:
Targets: In hematologic indications, CD19 is the main target for cellular immunotherapies, but BCMA and CD22 nearly doubled in the number of active agents being explored since the 2019 report. In solid tumor indications, undisclosed tumor-associated antigen (TAA) is the main target. Of the top 10 targets, GPC3 (expressed on pediatric solid embryonal tumors and adult hepatocellular carcinoma) and PSMA (expressed on prostate tumors) showed the greatest year-over-year change.
Clinical trials: Analysis of published results from clinical trials showed most had positive readouts. Tumor-infiltrating lymphocyte (TIL) cell therapies had positive readouts in phase 1/2 solid cancers, and cytokine-induced killer cells had positive results in late-stage trials in solid tumor indications. Novel T cell technology exploring allogeneic transplantation had disproportionately more positive results in hematologic cancers than solid cancers in early-stage studies.
Global development: In China, preclinical assets nearly tripled from 2019 to 2020, increasing from 69 to 202.
The latest findings from the global development landscape can be useful for pharmaceutical companies in planning their pipeline strategies and could support collaborations that may lead to the development and commercialization of valuable cellular immunotherapies for cancer patients.

Reference:
Yu JX, Upadhaya S., Tatake R., Barkalow F., Hubbard-Lucey VM. Cancer cell therapies: the clinical trial landscape. Nat Rev. Drug Discov. May 26, 2020.

ENDS
Contacts:
For Cancer Research Institute:
Brian Brewer, Director of Marketing and Communications: +1.212.688.7515 x242
bbrewer@cancerresearch.org

For GlobalData:
GlobalData Press Office: +44 (0)207 936 6400
pr@globaldata.com

About the Cancer Research Institute
The Cancer Research Institute (CRI), established in 1953, is the world's leading nonprofit organization dedicated exclusively to saving more lives by fueling the discovery and development of powerful immunotherapies for all types of cancer. Guided by a world-renowned Scientific Advisory Council that includes four Nobel laureates and 26 members of the National Academy of Sciences, CRI has invested $420 million in support of research conducted by immunologists and tumor immunologists at the world's leading medical centers and universities, and has contributed to many of the key scientific advances that demonstrate the potential for immunotherapy to change the face of cancer treatment. To learn more, go to cancerresearch.org.

About the CRI Anna-Maria Kellen Clinical Accelerator
CRI's clinical program, the Anna-Maria Kellen Clinical Accelerator, is a unique academia-nonprofit-industry collaboration model that serves as an "incubator" that delivers multi-center clinical trials for promising new immunotherapy combinations. CRI's venture philanthropy fund supports clinical trials within this program, which fosters a collaborative environment that enables scientists to advance their most ambitious research ideas and accelerates studies that one group or company could not do alone. To learn more about the Anna-Maria Kellen Clinical Accelerator, go to cancerresearch.org/clinical-accelerator.