17 Dec 2020
Roku's hiring rallies for strong business performance, finds GlobalData
Posted in
Business Fundamentals
With a significant increase in active accounts, streaming hours and  higher advertising revenues, connected TV company Roku's strong business performance has also triggered a jump in hiring activity. The company has seen a rapid rise in hiring with around 600 jobs posted since February 2020, according to the Jobs Analytics database by leading data and analytics company GlobalData. Active jobs increased from 20 in February to almost 160 by the end of November 2020.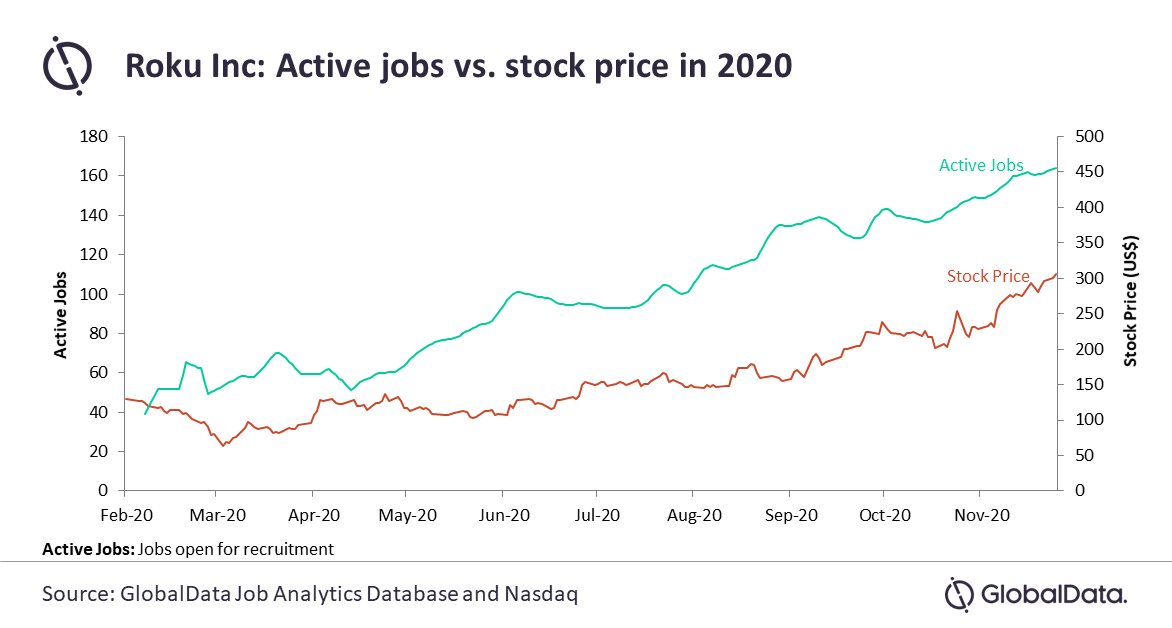 Ajay Thalluri, Business Fundamentals Analyst at GlobalData says: "Roku is hiring more as it is seeing an increase in demand for its streaming players, especially in North America. As many consumers are spending more time at home, the need for streaming content is high. This is evident with the growth in streaming hours."
Roku's strong performance in US markets means the company is expanding its presence in proximity markets such as LATAM and Canada. It recently launched Roku TV in Brazil.
In October 2019, Roku acquired DataXu, a demand-side platform (DSP) that enables marketers to optimize targeted advertising outcomes and expand to new markets such as the UK and Europe. According to GlobalData Filing Analytics, Roku's geography mentions for the UK, increased from 53 in 2019 to 77 in 2020. Roku started posting jobs in the UK since March 2020 and formally launched the Roku channel with free access to more than 10,000 movies, TV episodes and documentaries in April 2020.
Thalluri adds: "What's interesting to note is, alongside geographic mentions of the UK, the company's filings also reference other geographies such as Denmark, Germany and the Netherlands. From February to November 2020, the company posted around 80 jobs in Europe."
Roku is also developing HR policies and procedures for global presence and key jobs posted include Director, Legal – Labor & Employment; Director, Technical Recruiting; Director, Human Resources Business Partner; and Director, Learning & Talent Development for its learning and development programs.
In addition, Roku posted 'Director (or Senior Counsel) of Legal & Business Affairs (International Product Counsel)' for assisting the international expansion business team in product launches in the EMEA, LATAM, Canada and other countries. The company also posted jobs for customs and logistics experts in Europe for sourcing streaming equipment from manufacturing facilities located in China and Taiwan.
Ajay concludes: "Roku's streaming service has seen a massive uptick of 36% since Q4 2019 to 14.8 billion hours in Q3 2020, according to the company. The company is disrupting the streaming industry, making television smart with an app store and distributing content freely, funded by advertisements. Roku aims to build its subscribers across as it sees a huge opportunity."