22 Jan 2020
Scotland's 'national drink' to be celebrated at fourth National Whisky Festival as alcohol moderation continues to grow, says GlobalData
Posted in
Consumer
Low-alcohol beers, wines and spirits are growing in popularity as brands attempt to cater to an increasingly health-conscious consumer base. A recent GlobalData survey shows that 24%1 of UK consumers are trying to actively reduce their alcohol consumption, which is in line with ongoing trends of moderation in both food and drink. Despite this, global trends of localism continue to shape the food and drink industry, with many consumers eager to favour domestic businesses and products, and to propagate their national cuisines' heritage and authenticity, says GlobalData, a leading data and analytics company.
Arian Bassari, Consumer Analyst at GlobalData, comments: "While nearly a quarter of the UK population are trying to reduce their alcohol consumption*1, whisky appears to be unperturbed. Consumption has been steady in the last few years, and it is likely that it will continue to be unaffected by moderation trends, due to the drinks strong national heritage".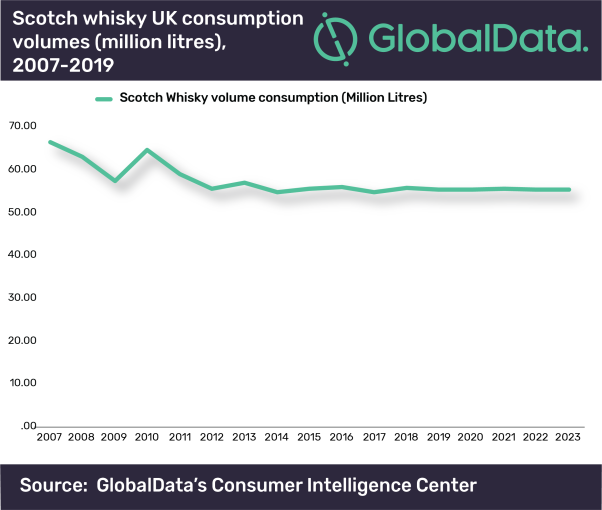 IMAGE Available: Scotch whisky UK consumption volumes (million litres), 2007-2019
Scotland's National Whisky festival, planned for 25 January, describes itself as 'Scotland's definitive whisky festival', celebrating the nation's rich history of whisky distillation. Guests can experience a medley of Scotch whiskies, provided by a variety of local breweries.
Bassari concludes: "The National Whisky festival is sure to be a popular event, and the organisers are eager to welcome not only experienced drinkers, but newcomers too. Although moderation and low-alcohol drinks may be gaining traction, Scotch whisky is sure to remain popular."
*GlobalData Market Analyzers – Wines and Spirits; *1 GlobalData 2019 Q3 UK consumer survey