The COVID-19 outbreak has rendered automakers helpless with large-scale supply chain disruptions and retail outlet shutdowns. The troubles are mounting due to supply chain volatility spreading as fast as the virus, which also reflects the in decline in sentiments for several global automakers, says GlobalData, a leading data and analytics company.
Several automakers, including BMW, Ford, Volkswagen and General Motors, witnessed a sentimental crash in Q4 2019 (earnings transcripts released during February and March 2020), with most of them expressing concerns related to COVID-19. Meanwhile, companies such as, Ford, Fiat Chrysler, General Motors, Toyota, BMW, Porsche and Volkswagen announced shutdowns due to their inability to procure parts from China and the rapid spread of the virus in Europe and the US.
Aurojyoti Bose, Lead Analyst at GlobalData, says: "The automotive industry has a highly integrated supply chain network, in which disruptions have rippled across the industry in every region. Shortages of parts from Europe and China has affected plants in Latin and North America as well."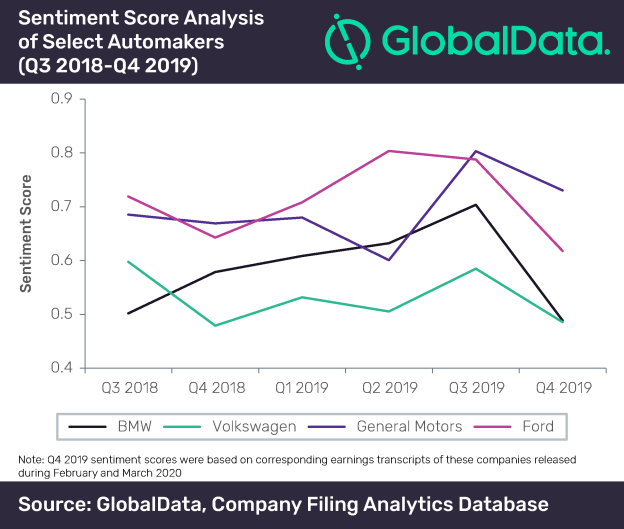 BMW and Volkswagen have seen sentiments decline by 30% and 15%, respectively, in Q4 2019 when compared to the previous quarter.
Bose adds: "BMW has seen the impact of the outbreak on its sales with its Q1 2020 sales volume declining by 20.6% due to drop in sales in China, Europe and the US. Similarly, Ford and GM, who released their results and transcripts in February 2020, initially did not expect such a massive impact on the industry. However, Ford in April 2020, said it expects a US$600m pretax loss and US$2bn net loss in Q1 2020 due to the coronavirus."
According to Ford, the pandemic triggered a 21% decline in vehicle sales in Q1 2020 when compared to the same quarter in 2019, while GM experienced 43% drop in Chinese vehicle sales. Ford and GM did not announce any plant restart dates, while other companies such as Fiat Chrylser and Honda, expect resumption of operations by early May 2020.
BMW also announced extensions to plant shutdowns in the US and Europe until April 30, while its counterparts Toyota, Volkswagen and Renault have started a steady resumption of operations in Europe.
In a bid to increase sales amid the pandemic, BMW and Volkswagen are offering payment deferment schemes on new purchases of vehicles in the US and Europe. In China, Volkswagen's sales have started picking up since late March 2020. According to VW, 22 of its Chinese plants have resumed operations, though it feels that the demand remains bleak.
Bose concludes: "Though most of the factories in China have resumed operations, it will take time for the industry to recover with lockdowns still in place across several countries and the companies will have to wait to regain the lost fortunes. It would also be noteworthy to see how many of these automakers emerge intact out of the crisis."