Based on the current trajectory of COVID-19 daily confirmed cases, South Africa is among the most heavily affected countries in the world, with a forecast of 500,000 total confirmed cases in the next two weeks. Given that it is one of the most developed countries in Africa, its struggle to control the surge of new cases does not bode well for other African countries with far fewer resources, says GlobalData, a leading data and analytics company.
Bishal Bhandari, PhD, Senior Epidemiologist at GlobalData, comments: "GlobalData does not predict that South Africa will see significant decreases in new cases soon, due to inadequate control of the pandemic. Resource constraints are limiting South Africa's ability to conduct meaningful testing and contact tracing for COVID-19 cases. A strict lockdown might have to be reintroduced to get the pandemic back under control."
GlobalData estimates that it will take an additional six weeks of continued strict social distancing efforts before the numbers will decrease to fewer than 1,000 new cases per day.
Bhandari continues: "As South Africa has started to reopen its economy amid the rapidly rising cases, there is a major risk that COVID-19 cases will not decline in the near future. Due to its fragile economy and the negative economic ramifications of a complete lockdown, the country determined that a prolonged lockdown was no longer viable. South Africa should remain vigilant, develop an effective testing and contact tracing policy and be prepared to shut down geographical areas where outbreak hotspots occur. In recent days, country had to impose night time curfew and alcohol ban to ease the burden in hospitals struggling with COVID-19 cases."
South Africa appears nowhere near peak cases, with more than 50% of all confirmed cases reported in the month of July. The recent surge in new cases, as shown in Figure 1, makes South Africa's outlook uncertain.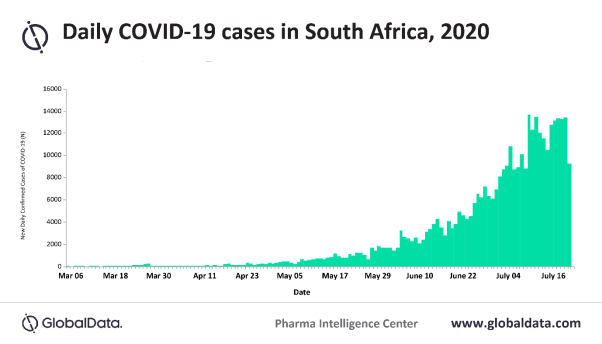 Bhandari adds: "South Africa was conducting an average of 6,000 tests per day in April, which increased to more than 45,000 tests per day in the 2nd week of July. This increased testing is one of the possible explanations for the recent higher number of daily confirmed cases. It is also believed that the number of undiagnosed cases is much higher given South Africa's low testing rate, especially in the more deprived areas of the country."