23 Apr 2020
Spain likely to be hit hardest by pandemic according to GlobalData's COVID-19 Banking Severity Impact Index.
Posted in
Banking
The level of COVID-19 lockdown and number of cases pushes Spain and Italy towards the top of GlobalData's COVID-19 Banking Severity Impact Index. Economic factors, such as the percentage of the population who are self-employed and have savings of up to $15,000 (or equivalent) make Spain score the highest, followed by Italy and Germany. While Germany is widely believed to be handling the pandemic well, its higher proportion of self-employed workers who also hold personal loans makes the country's banking market vulnerable to disruption by COVID-19.

GlobalData's COVID-19 Banking Severity Impact Index is a model examining the level of secured and unsecured debt and emergency savings that self-employed consumers hold. Combined with COVID-19 related factors such as the number of cases and severity of lockdown, the model assesses the vulnerability of the banking market where data is available in each country GlobalData reviews.
Sean Harrison, Lead Retail Banking Analyst at GlobalData, commented: "Markets with higher self-employed, credit penetration and thin cash buffers will be hit hardest by COVID-19".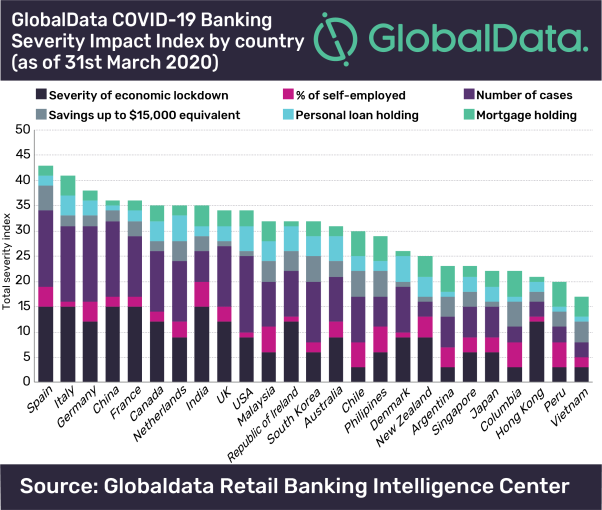 These points were discussed at GlobalData's recent Covid-19: Sector Impact: Retail Banking webinar which reviewed how banks should respond to the current crisis.

Harrison, continued; "Banks will stay open in some form, even in the most severe lockdowns, but they should use this as an opportunity to push through digital transformation to stay in touch with customers."

Many banks will not be prepared for the significantly higher numbers of telephone banking customers, which will lead to long waiting times for customers. Banks who have previously invested in online training for their customers will reap the benefits. There will be very many vulnerable personal and business banking customers around the world over the next few months and they will need to contact their banks. Banks with a strong digital presence will be best-placed to help and support these customers through the crisis.
Harrison, added: "The main reason many customers don't try a new task online is because they have never had to. COVID-19 will force more people online and force them to do a broader range of tasks. This is a clear opportunity to win over holdouts with superior digital experience and turn off long-standing physical services with limited reputational damage."
Information based on GlobalData's webinar: Coronavirus (COVID-19) Sector Impact: Retail Banking