21 Apr 2020
Sullivan & Cromwell tops ranking of global legal advisors in ICT sector in Q1 2020
Posted in
Business Fundamentals
Sullivan & Cromwell has dominated a ranking of M&A legal advisers based on deal value in Q1 2020, having advised on eight deals worth US$12.7bn. Leading data and analysis company GlobalData, which tracks all M&A, private equity/venture capital and asset transaction activity around the world, noted that White & Case finished in second position, with six deals worth US$9.27bn, and Ropes & Gray achieved third position, with 16 deals worth US$9.04bn.
Aurojyoti Bose, Financial Deals Analyst at GlobalData, says: "Sullivan & Cromwell, which advised on fewer but larger-ticket deals, was the only legal adviser that managed to surpass the US$10bn mark during the COVID-19-hit Q1.
"Almost all big advisors are feeling the impact of the COVID-19 outbreak. Sullivan & Cromwell, in its Q1 2020 M&A update, discussed the impact of the virus outbreak and also expressed concerns on completion on pending M&A transactions. Meanwhile, Kirkland & Ellis, which topped in volume terms, had to settle for seventh position in terms of value."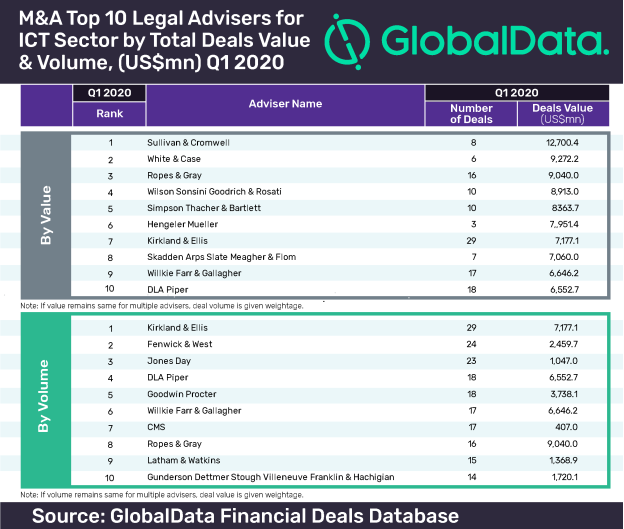 Global ICT deals market in 2020
On the back of the COVID-19 outbreak, deal activity remained sluggish and the ICT sector witnessed a decline of 35.56% in deal value from US$173bn in Q1 2019 to US$111.5bn in Q1 2020. Deal volume decreased by 11.52% from 4,914 to 4,348.
Sullivan & Cromwell stood at third position in the recently released global league table of top 20 M&A legal advisers by GlobalData.
Kirkland & Ellis leads by volume
Kirkland & Ellis has secured number one position in the latest global M&A legal advisers league table for the ICT sector based on deal volume in Q1 2020. The US-based law firm advised on 29 deals worth US$7.17bn.
Fenwick & West occupied the second position with transactions worth US$2.45bn, followed by Jones Day with 23 deals worth US$1.04bn.