27 Jan 2020
Sustainability, prevention of cyber-attacks and connecting with generation hashtag the key insurance trends for 2020, says GlobalData
Posted in
Insurance
Sustainability will be the key trend in 2020 and for the coming decade as it is an industry-wide issue that will fundamentally change how insurers will do business and who they will partner with. Other key themes are the threat of cyber-attacks and how insurers will protect their clients and balances sheets and generation hashtag, and how insurers will target and interact with the latest age group to enter the workforce.
Ben Carey-Evans, Insurance Analyst at GlobalData, highlights the key insurance trends for 2020.
Sustainability
"Sustainability and climate change is a key trend across all industries in 2020 and beyond as severe weather events are becoming more commonplace. Insurers in the UK faced increased scrutiny in 2019 for partnerships with unsustainable energy companies and several started to react. Axa, QBE and Chubb all announced that they would no longer sell insurance to coal companies in 2019.
"While it being beneficial for PR is undoubtedly an issue, especially with insurers in Fenchurch Street being targeted by Extinction Rebellion protests in 2019, renewable energy is a vast and growing industry that insurers will benefit from creating partnerships with. Similarly, the increase in severe weather events across the world is proving extremely expensive for insurers, as Swiss Re estimated the total natural and man-made catastrophes for 2018 was $155bn."
Cyber
"Similar to sustainability, cyber threats and security is a key trend across all industries, but it is particularly relevant to insurance as the industry could fit the bill following costly attacks. A constant flow of high-profile attacks has seen the issue become a key concern for businesses especially, and the burden to ease that falls on insurers.
"The issue is that it is not like flooding, for example, where underwriters can create high and low-risk zones and reduce how much risk they open themselves to. An attack could impact any and all of their clients and losses could spike, which is why mainstream insurers have been reluctant to offer comprehensive policies.
"This has led to cyber specialist insurers focusing on the prevention side, as they look to train staff and upgrade systems and software. These preventative measures are not widely used by traditional insurers yet though, and that is reflected within GlobalData's 2019 UK SME Insurance Survey, as cyber-attacks, and issues related to them rank highly in our list of top business concerns."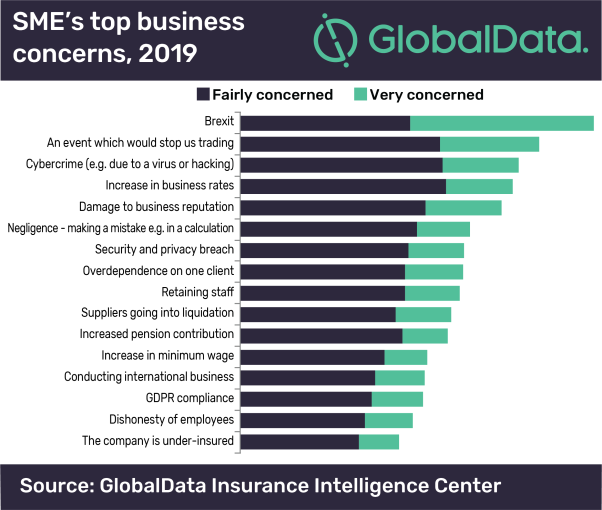 IMAGE Available: SME's top business concerns, 2019
Generation hashtag/ demographics
"Generation hashtag is a key trend for insurers as it is a demographic they have not yet managed to successfully target. Insurers have been striving to bring millennials into the industry with digital upgrades and improvements in the direct channel in recent years, but face a further challenge with the youngest generation within the workforce.
"The industry still lags behind other sectors in offering instant digital solutions, in the same way that Airbnb has taken control of accommodation or Uber and Netflix for taxis and entertainment.
"The challenge insurers face is illustrated in our consumer survey results, where the difference in insurance penetration between generation hashtag and overall consumers is particularly stark within household insurers. Only 40.5% of the generation takes out any form of household insurance, compared to an overall figure of 80.5%. We have taken out consumers living with family for this chart as it would include people who are unlikely to be the decision makers. The travel penetration rates shows that insurers have had more success there, and a range of easy, quick digital apps, such as Cuvva and Pluto, have helped them reach this generation."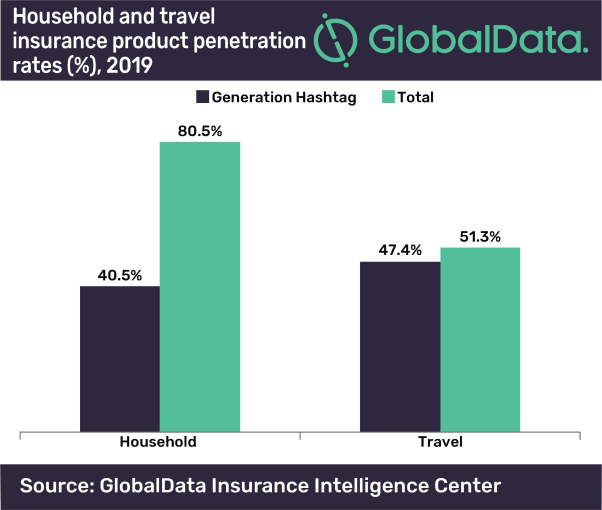 Image Available: Household and travel insurance product penetration rates (%), 2019