04 Jun 2020
Telecoms operators that fail to digitize their business will face a challenging year
Posted in
Technology
Harsh economic times resulting from COVID-19 will make 2020 a challenging year for telecom operators. Post-crisis, consumer and enterprise telecom service appetites and habits will not go back to pre-crisis levels. According to GlobalData, a leading data and analytics company, consumers of all ages have had to become more digitally-literate, which means telecom services companies will have to rethink their business to service a more tech-savvy residential segment in the future.
The company's latest report, 'COVID-19 Impact on Telecom Services', reveals that those telecom operators that have already invested significantly in artificial intelligence (AI), digitized their business earlier than others, or already have a strong innovation pipeline developed, will be best positioned for a fast recovery. This includes Deutsche Telekom, SK Telecom, China Telecom, Telefonica, Vodafone, and AT&T, all of which are ranked highly in the thematic screen of GlobalData's telecom services sector scorecard.

Building and maintaining telecom infrastructure has been moderately impacted by COVID-19, and the difficulty of coping with national government rules on social distancing is creating network installation and maintenance challenges. 5G investment remains critical for major US carriers, which are pressing ahead with their plans, but several European countries have had to delay their 5G spectrum auctions.
David Bicknell, Principal Analyst in the Thematic Research Team at GlobalData, commented: ''COVID-19 has impacted all aspects of daily life for consumers and businesses. The wireless telecom industry is not immune to any economic slowdown, though it is better insulated than most as its services are an important part of consumers' lives. However, many telecom operators' revenues will be hit throughout 2020 because of the economic slowdown created by COVID-19 and the longer stay-at-home orders remain in place, the longer the slowdown will last."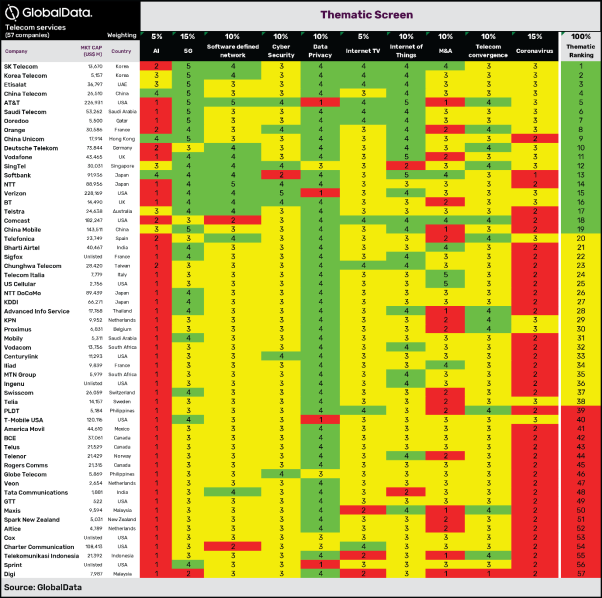 IMAGE FOR PUBLICATION: Telecom Services Scorecard
Information based on GlobalData's report: 'COVID-19 Impact on Telecom Services',