20 Feb 2019
The inequality in the provision of Employee Benefits throughout the UK SME landscape creates opportunities for insurers to grow, says GlobalData
Posted in
Press Release
The majority of UK SMEs are not offering income protection cover to their entire workforce, with many choosing to only offer protection to management or owners. Given this, insurers which are already providing cover in this space could capitalize by targeting certain industries to increase penetration to all employees by leveraging their existing relationships, according to GlobalData, a leading data and analytics company.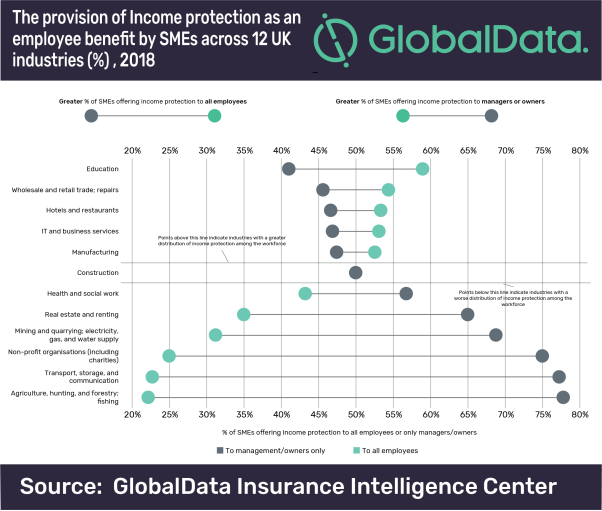 Image for publication: Click here for enlarged chart
The company's latest UK insurance framework, which analyses the provision of employee benefits by SMEs in 12 UK industries and – in this case income protection* – to their workforce, highlights the inequality of benefit provisions across both industries and benefit types. It reveals that for some of the 20 benefits provided, there is scope for insurers to actively target certain industries to increase penetration across the wider workforce.
Daniel Pearce, Insurance Associate Analyst at GlobalData, commented, "The provision of employee benefits is typically seen by businesses as a method of attracting and retaining employees. With SMEs in 6 out of the 12 industries predominantly offering income protection only to managers or owners, it is clear this product is seen as more of a luxury than necessity, particularly as those that do offer to all employees in the remaining industries are not overwhelmingly dominant." 
SMEs operating in UK agriculture, hunting, forestry and fishing showed the greatest inequality in the provision of income protection; conversely those operating in the education industry were most inclined to offer this benefit to all employees.
Pearce added, "GlobalData's survey highlights good opportunities for insurers to increase the uptake of their employee benefit propositions. Products which are only offered to managers could be developed to offer a two tier system, allowing for all employees to benefit but retaining an element of luxury for managers or owners to benefit from higher levels of cover.
"Alternatively, targeting individuals with the equivalent personal insurance products, who work in industries where benefits are exclusive to managers or owners, would also help drive an increase in the uptake of the equivalent product in personal lines."