22 Oct 2021
Thermal power to comprise 46.1% of Czech Republic energy mix by 2030 making the transition to renewable power and it's GHG emissions targets difficult to achieve, says GlobalData
Posted in
Power
The Czech Republic has ambitious plans to phase out coal and transition to more renewable power by 2030, however the country seems to have no clear roadmap to achieve this goal. Thermal power holds a significant share in the country's current generation mix and is still expected to comprise 46.1% of total power generation by 2030. In contrast the share of renewable power generation stood at 11.1% in 2020 and is only expected to rise marginally to a share of 13.4% by 2030 according to GlobalData a leading data and analytics company.
Rohit Ravetkar, Power Analyst at GlobalData, comments: "The country is heavily dependent on coal power generation to meet its electricity demand and a rapid phase out of coal could threaten the country's energy security if renewable power is unable to bridge the gap. Hence, the country should draft a clear coal phase out policy to allow time for utilities to transition from coal power to other technologies."
According to GlobalData's latest report, 'Czech Republic Power Market Outlook to 2030, Update 2021 – Market Trends, Regulations, and Competitive Landscape', thermal power held a significant 48.1% share and nuclear power around a third of the share of the country's electricity generation mix in 2020 and so the Czech Republic will continue to depend heavily on thermal and nuclear power generation until 2030.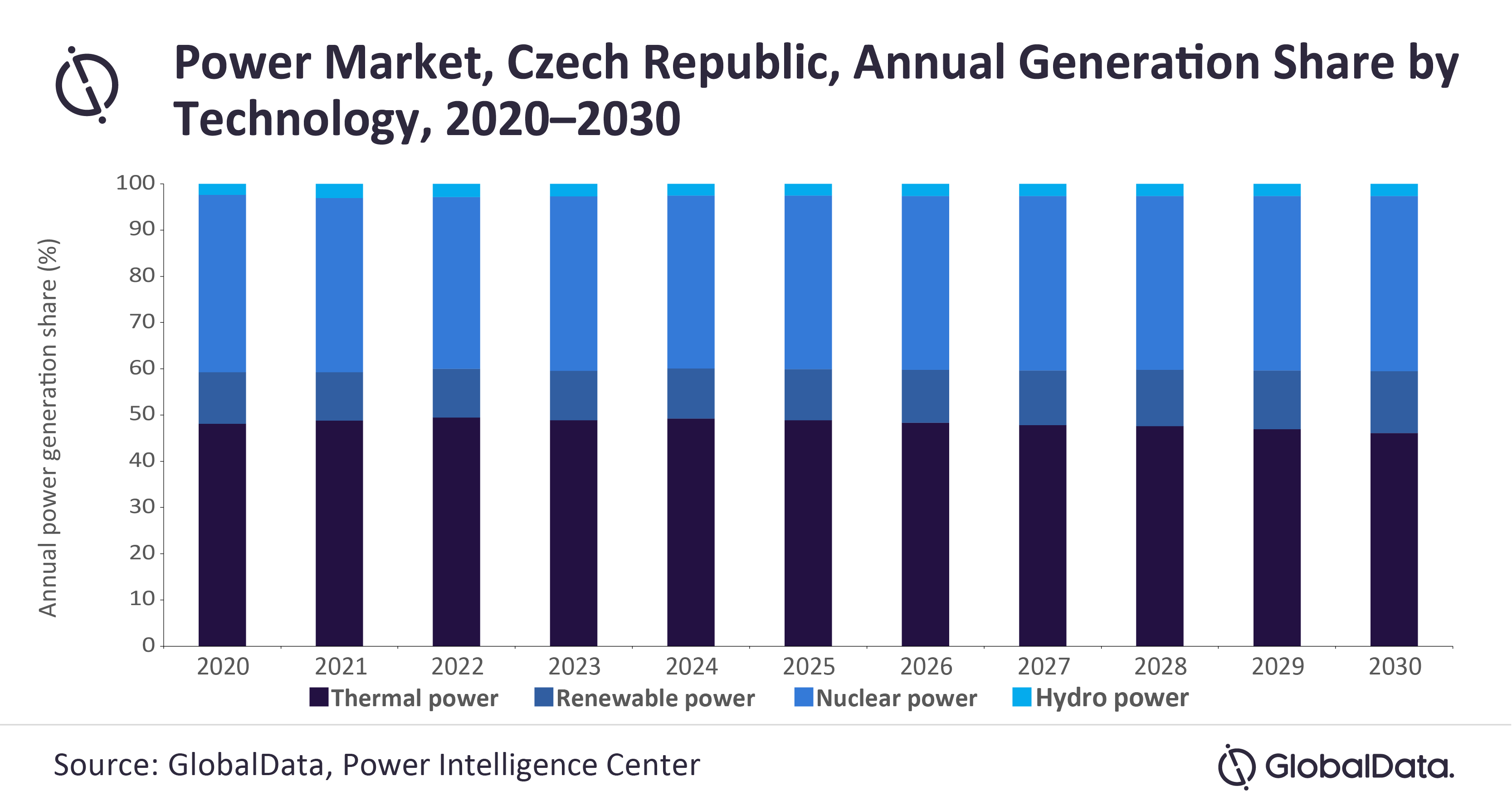 According to the National Energy and Climate Plan (NECP), the Czech Republic is targeting to reduce the GHG emissions by 30% by 2030 as compared to 2005 levels however with thermal power still expected to comprise a large share of total generation in 2030, this target will be difficult to achieve.
Under NECP, the country is also targeting to increase the solar PV cumulative capacity to 4 GW by 2030, however it is expected to fall slightly short of this target. The Czech Republic is also expected to miss its 2030 State Energy Policy target of generating 15.1 TWh of electricity from renewables. This is because renewable power generation is expected to reach only around 10 Terawatt-hour (TWh) by 2030. Missing this target will mean that the country will have to further depend on thermal and nuclear power sources to meet the growing power demand.
Ravetkar adds: "The Czech Republic has been slow to adopt renewable energy. As the country has large reserves of hard coal, coal-fired thermal power holds a significant share in the country's generation mix and will continue to do so for the foreseeable future."