22 Apr 2020
Top 10 global M&A financial advisers in construction sector in Q1 2020
Posted in
Business Fundamentals
Leading data and analytics company GlobalData has revealed the latest mergers and acquisitions (M&A) league table of the top 10 financial advisers in the construction sector by value and volume during the coronavirus-hit first quarter (Q1) of 2020.
JP Morgan leads by value
JP Morgan has dominated the M&A financial advisers league table based on deal value in Q1 2020.
The US-based multinational investment bank secured the top spot based on the total advised deal value of US$27.03bn. However, in terms of deal volume, it came second behind Rothschild & Co with five deals.
GlobalData, which tracks all M&A, private equity/venture capital and asset transaction activity around the world to compile the league tables, confirmed that Goldman Sachs occupied the second position with four transactions worth US$24.6bn.
Ravi Tokala, Financial Deals Analyst at GlobalData, comments: "JP Morgan emerged as the top financial advisor in the construction sector, mainly driven by its involvement in two big ticket deals – Investors Consortium's acquisition of ThyssenKrupp Elevator and CapitaLand Mall Trust's merger with CapitaLand Commercial Trust. Interestingly, the top eight of the top 10 financial advisers were involved in ThyssenKrupp Elevator's deal."
JP Morgan, which topped the league table of M&A financial advisers in the construction sector, stood at second position in GlobalData's recently released global league table of top 20 M&A financial advisers.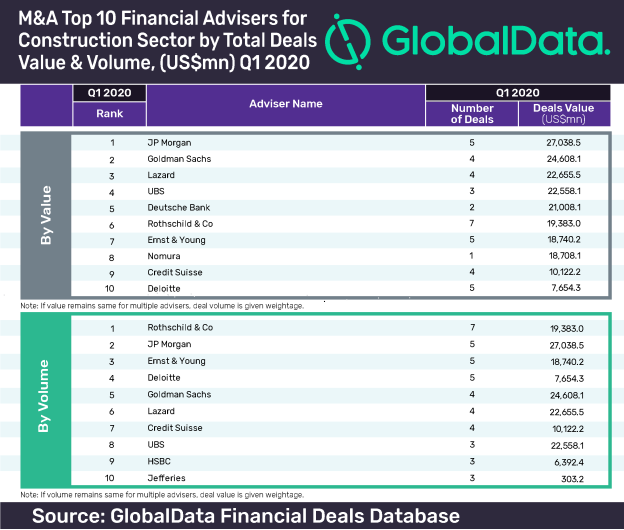 Rothschild & Co tops by volume
Rothschild & Co has secured number one position in the latest global M&A financial advisers league table based on deal volume in Q1 2020. The firm advised on seven deals worth US$19.38bn.
GlobalData revealed that Ernst & Young occupied the third position with five transactions worth US$18.74bn.
Tokala comments: "M&A activities in the sector started on a slow note in 2020, with Q1 witnessing a 6.15% drop in deal activity as compared with the same quarter last year. Almost all the top 10 advisers by volume advised on less than eight deals."
Global construction deals market in Q1 2020
The construction sector saw an impressive overall rise of 28.45% in deal value from US$47.2bn in Q1 2019 to US$60.63bn in Q1 2020. Deal volume, however, decreased by 6.15% from 667 in Q1 2019 to 626 in Q1 2020.