31 Mar 2020
Top five VC-funded tech companies in North America raised US$4.4bn in 2019, finds GlobalData
Posted in
Technology
The top five venture capital (VC) funded companies in the emerging tech space of North America were headquartered in the US in 2019. These companies collectively raised US$4.4bn, according to GlobalData, a leading and data analytics company.
Aurojyoti Bose, Lead Analyst at GlobalData, comments: "Riding on the back of tech innovation, these companies are changing the way businesses operate and have become lucrative investment bets for VC firms. Furthermore, recognition by some of the renowned organizations is a testimony to disruption brought in by these companies."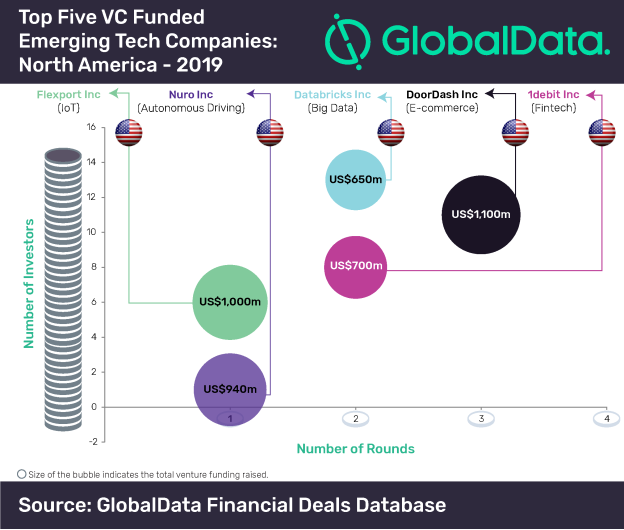 DoorDash raised US$1.1bn through three funding rounds, which is the highest VC funding among all the companies during 2019. DoorDash is active in the e-commerce services space and primarily operates an online food ordering and delivery platform. However, the company has been diversifying beyond food delivery services and is pursuing moves towards the grocery space.
DoorDash is closely followed by Flexport, which is a freight forwarding company that leverages technologies such as Internet of Things (IoT) in its logistics operations. Both DoorDash and Flexport also featured in the 2019 CNBC Disruptor 50 companies list.
Nuro, 1debit and Databricks, which are active in the autonomous driving, Fintech and Big Data space, respectively, occupied the third, fourth and fifth position in 2019.
Bose adds: "The presence of US companies in the top five list is a clear indication that the US continues to remain the hub of technical innovation and VC funding activity in North America."
Of the total VC deals announced in the tech space in North America in 2019, the US accounted for more than 95% of the deal volume and value with Canada lagging behind it by huge margins.