06 Apr 2020
UK cash withdrawals falling even further amid coronavirus pandemic, says GlobalData
Posted in
Banking
The total growth of UK payment transactions has been revised down due to the coronavirus (COVID-19), according to estimates by GlobalData, a leading data and analytics company. The revision sees transactions expected to rise at a compound annual growth rate (CAGR) of 3.5% between 2019 and 2023 due to steady card growth, according to GlobalData, a leading data and analytics company.
GlobalData's report, COVID-19 Sector Impact: Payments, shows that the value of cash withdrawals in the UK is expected to decline by a CAGR of 4% up to 2023, while the value of card transactions will increase by 3%. Both have been revised down – cash withdrawals from -3.3% and card from 5%.
Meanwhile, the total transactions value has been revised down from a CAGR of 3.8% to 2%. These trends are replicated around the world, with GlobalData's China forecasts seeing total transactions growth has been revised down to 13.6% CAGR to 2023, from 16.5%.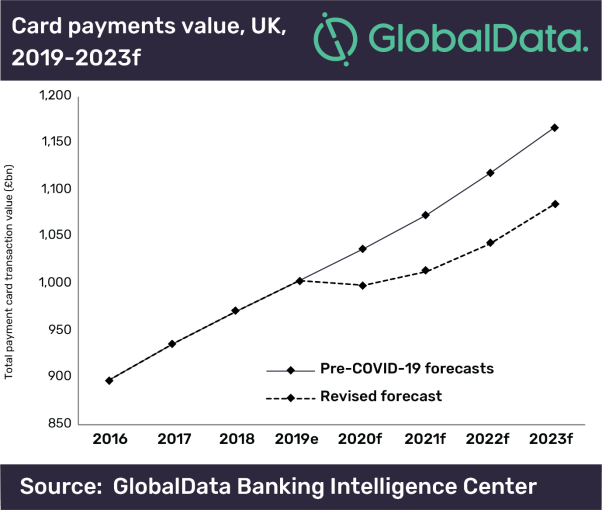 GlobalData Banking and Payments Analyst, Ravi Sharma, commented: "The overall decline in payments in the UK will partially be offset by a rise in online spending as wary consumers are staying home and using online channels to purchase goods. Online payment solutions such as PayPal, Visa Checkout and Masterpass stand to benefit from the prevailing trend.
"Although more people will use debit and credit cards, both out of choice and necessity, the forecast of CAGR to 2023 has still been reduced because overall spending is set to take such a large hit.
"We have revised forecasts for card transaction value and volume, anticipating a reduction in projected growth for 2020, which will ultimately recover, but not to forecasted levels. This is due to short-term effects of what is clearly looking likely to be a global economic recession."