28 Mar 2019
UK construction companies risk labour shortage, with only 17.8% of SMEs offering protection benefits, says GlobalData
Posted in
Press Release
With almost 1.2 million small and medium sized construction companies in the UK, the sector has more SME's than any other UK based industry.
However, only 17.8% of SMEs in the construction sector offered critical illness cover to all their employees in 2018; this percentage falls to 16.8% for income protection, according to GlobalData, a leading data and analytics company.
Yasha Kuruvilla, Associate Insurance Analyst for GlobalData comments, "A lower than average proportion of employees in construction companies receive protection cover from their employer but these benefits are very desirable. Our data reveals that 65% of individuals who are not offered critical illness or income protection cover by their employer would like to receive them."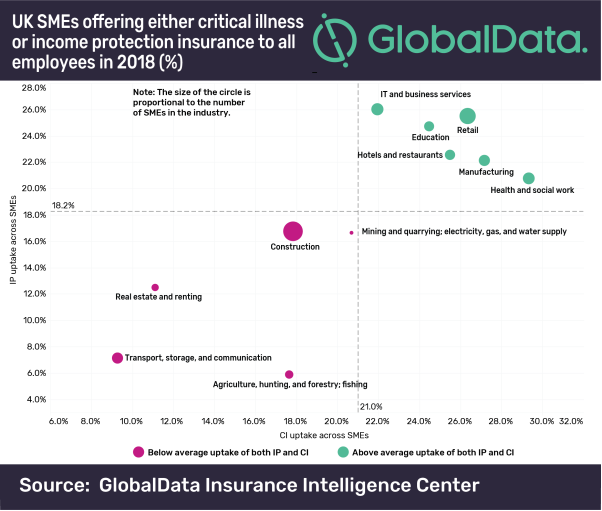 IMAGE FOR PUBLICATION: Please click here for chart
With Brexit looming on the horizon, the future of the sector's 164,000 EU workers is very uncertain. The construction industry will need to rely on the UK labour market in the coming years due to restricted access to the EU market and a possible exodus of EU citizens from the UK. According to a recent BBC report, EU workers have already began emigrating from the UK which is creating a skills gap, especially in the construction industry.
Kuruvilla continues: "It will be a struggle for construction companies to attract domestic workers to an industry where protection policies are arguably extremely important yet offerings are low."