27 Oct 2021
UK joins global AI arms race with new ten-year plan as it targets slice of global AI platform revenues set to reach $52bn by 2024, says GlobalData
Posted in
Thematic Research
Global AI platform revenue will reach $52bn by 2024, up from $28bn in 2019.
The UK is currently a laggard in AI as it has only made 2,525 patent publications in the last three years, compared to the US's 103,871 and China's 63,292.
The UK's ten-year AI plan shows signs of prioritising innovation over regulation as it mentions the possibilities of excising Article 22.
The UK Government recently announced a new ten-year plan to make the country a global artificial intelligence (AI) superpower to rival the US and China. Whilst the UK has ambitions to become a key player in global AI innovation, it is currently lagging behind its rivals. The UK has only made 2,525 AI patent publications in the last three years compared to the US with 103,871 and China with 63,292 according to GlobalData, a leading data and analytics company.
GlobalData's latest report, 'Thematic Research – Artificial Intelligence (2020)', reveals that global AI platform revenue will reach $52bn by 2024, up from $28bn in 2019 – which offers the UK a big incentive to become a key global player in the industry.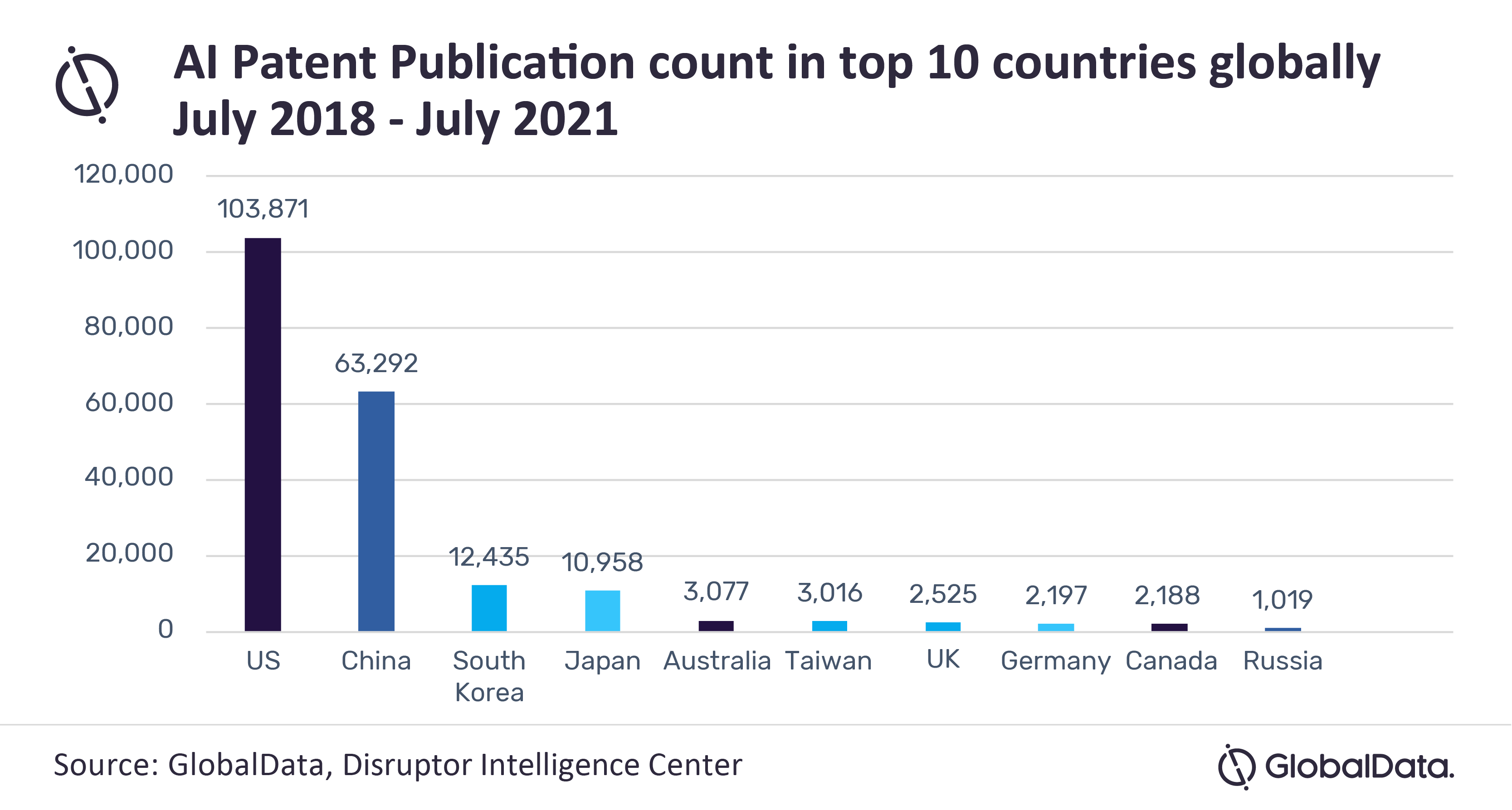 Emma Taylor, Associate Thematic Analyst at GlobalData, comments: "The ten-year plan is an attempt by the UK to establish itself as a key AI player in the global AI arms race. It's the country's first National Artificial Intelligence (AI) Strategy to outline AI research, funding, innovation and governance with a much anticipated White Paper due to be published in early 2022, which is expected to hold a pro-innovation position on governing and regulating AI."
The strategy is showing initial signs of prioritising innovation over regulation, with reports that the UK Government has raised the question of whether Article 22 should be better defined or even removed as part of the UK's data regime. Article 22 of the General Data Protection Regulation, which the UK adopted under its Data Protection Act 2018, ensures that there are human reviews of AI decisions, such as online decisions to award loans, or recruitment aptitude tests that use algorithms to automatically filter candidates. These reviews can be essential in monitoring mistakes and biases in algorithms, however, some regard them as burdensome, costly and impractical.
Taylor continues: "In the same month that the UK announced its ten-year plan, it emerged that the UK Government was considering redefining or even removing a key AI regulation, Article 22, from the country's data regime. This is a worrying sign that the UK could be setting innovation against regulation in its new AI strategy, rather than benefitting creatively from both. Innovation and regulation are often positioned as opposing forces, when really they should hold a symbiotic relationship."
The strategy could be viewed as a post-Brexit attempt to try to rival global leaders in AI such as the US and China. The implications for the UK falling behind in AI developments are concerning, however, relaxing regulations can also have dire consequences.
Taylor adds: "Stories in the media this year have highlighted a number of potential issues with AI, especially in areas like facial recognition technology. There is a precarious balance every authority needs to find between AI innovation and AI regulation. The white paper expected to be published early 2022 on UK AI regulation will be a key indicator of how well the UK will be able to manage this balance."
Information based on GlobalData's report: Thematic Research: Artificial Intelligence – (2020) and GlobalData Patent Data on the GlobalData Technology Intelligence Center.