13 Dec 2019
UK's pharmaceutical sector at risk following General Election results
Posted in
Press Release
The General Election was seen as the most feasible path to finding a way out of the Brexit deadlock as since the European Union (EU) referendum, British politics and the nation have been overwhelmingly divided between 'remain' and 'leave'. With conservatives securing a majority in the December 12 general elections and Britain now likely to be officially out of the EU at the end of January;
Urte Jakimaviciute, Senior Director of Market Research at GlobalData, offers her view on how Brexit could impact the UK pharmaceutical industry:
"The pharma sector has been allocating significant amounts of money to deal with any potential consequences of Brexit, and with Conservatives winning the election, Boris Johnson's withdrawal agreement should be backed by the UK's parliament. Even though the UK is set to leave by January 31, it is unclear what kind of relationship with the EU Boris Johnson will seek. No matter what contingency plans are in place and how much funds pharma companies are allocating to deal with the consequences of Brexit, it is very hard to be ready for whatever is going to happen due to an enormous degree of uncertainty surrounding the process. You cannot fully prepare for something that you cannot control.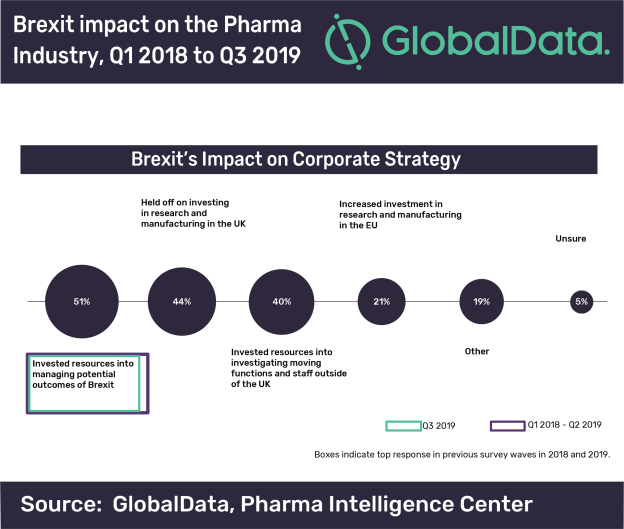 Image for publication: Please click here
"The pharmaceutical industry is one of the most dynamic in the UK and is a major contributor to the economy. It is also heavily integrated into the EU market, the main UK trading partner. In order to secure and preserve the UK's pharmaceutical sector, free trade agreement and future collaboration with the EU post-Brexit must be maintained.
"A nation is only as strong as its economy. According to the International Monetary Fund (IMF), the UK is the sixth largest economy by nominal gross domestic product (GDP) in the world, while the EU is the second; therefore it is unlikely that the UK would be prioritized over the EU. While Boris Johnson is promising to negotiate a Free Trade Agreement (FTA) with the EU by the end of 2020, without the need to extend the transition period, the EU has never confirmed the same agenda. As an example, Australia and the EU launched negotiations for a free trade agreement in June 2018; however the deal is still not here. While the UK-EU negotiation is quite untypical as they already have a free trade but rather deemed to move towards a less integrated agreement now, it still takes two parties to agree on the same deal.
"While the World Trade Organizations (WTO's) Pharmaceutical Tariff Elimination Agreement means that the UK will not need to pay tariffs on most of pharmaceutical products, if the free trade agreement is not achieved, this is only one side of the coin. With continuous uncertainty regarding the Brexit outcome, there are plenty of things for the pharma industry to worry about namely workforce, research funding and regulatory alignment."