12 May 2020
US Government's prudence while supporting a housing market crisis is up for assessment
Posted in
Business Fundamentals
Headwinds arising from the COVID-19 pandemic will be cataclysmic for the US real estate sector. Panic and uncertainty are widespread and have led many to postpone house purchases, says GlobalData, a leading data and analytics company.
Kausani Basak, Economic Research Analyst at GlobalData said: "Activity in the US housing market has decelerated as sales were expected to have wound down during March-April 2020, and many sellers have had to face economic hardships as return on investments are delayed."
House prices in the US have steadily grown over the past decade supported by low interest rates on mortgages, healthy job growth and the subsequent historically low unemployment rates between 2018 and 2019. In 2019 alone, house prices grew by 5.4% and this rise continued over the first two months of 2020.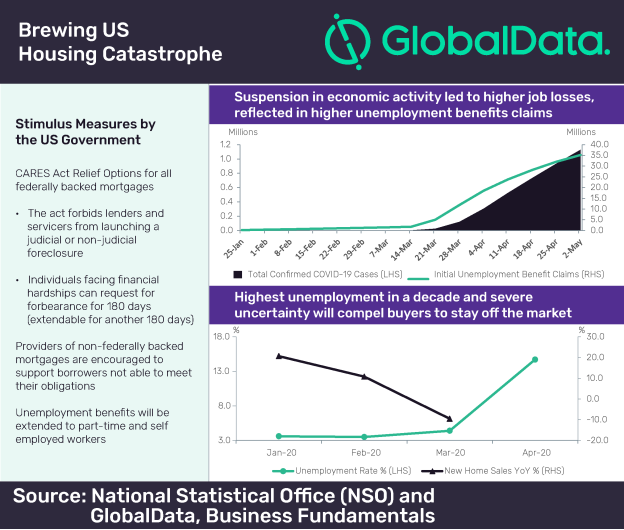 Basak continues: "The rise in US house prices has been rapid in contrast to the sedate rise in wages and retail consumer prices. Consequentially, housing prices have become exorbitant and unaffordable for many in the country – more so in large metropolitan areas.
"The perils of the housing market have been exacerbated by the skyrocketing unemployment in the country in the wake of the COVID-19 outbreak. According to the Department of Labor, more than 35 million people claimed unemployment insurance benefits during January 25th to May 2nd, 2020. The sudden jump in unemployment rates is caused by an external shock to the economy, and its effects are expected to be extraordinarily extensive.
"Mortgage payments are expected to be affected as homeowners grapple to pay instalments. This, in turn, will situate the financial system under duress. The large capital buffers maintained by banks will be beneficial in such times initially. However, prolonged delay in mortgage payments will place undue stress on the commercial banks, threatening their stability. Rental property owners will also be confronted with payment defaulters."
In such a high-stakes situation, potential home buyers are highly unlikely to undertake any new down payments and the situation is expected to sustain until the economic uncertainty abates. As a result, the demand in the real estate is estimated to be subdued and prices to tumble to historic lows. According to the National Association of Realtors, public interest in open houses has decreased significantly in April 2020, indicating low consumer confidence.
Basak concludes: "Prolonged hindrances to the market can lead to a complete price collapse leading to a disaster worse than the housing crisis of 2008-09. On the other hand, the government has taken some measures to protect the homeowners as part of its stimulus packages. However, they may not be sufficient to hold off the impending disaster in the markets."