10 Dec 2020
The US has the largest number of late-stage COVID-19 vaccines in development
Posted in
Coronavirus
With Pfizer/BioNTech's COVID-19 vaccine becoming the first mRNA vaccine in the world to receive emergency use approval by the UK's Medicines & Healthcare Products Regulatory Agency (MHRA), the race is on for other bio/pharma companies with COVID-19 candidates to seek out authorization from regulators within the coming weeks, says GlobalData, a leading data and analytics company.
Sharon Cartic at GlobalData comments: "The US has the largest number of COVID-19 vaccines in late-stage clinical development among the top pipeline geographies, with the EU following closely behind. The US currently has a total of 12 COVID-19 vaccines in Phases II and III, compared to the EU, which has 11."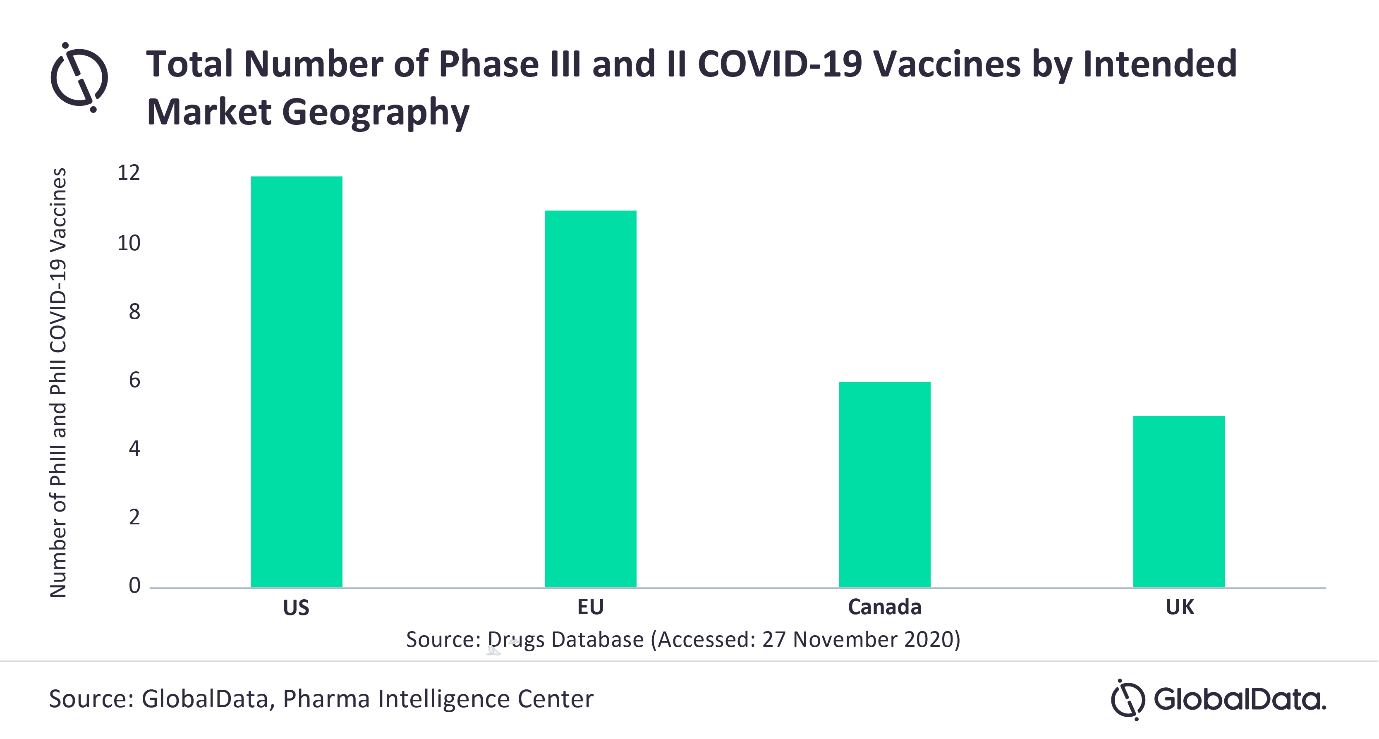 The approval of a COVID-19 vaccine by the EMA would mean the authorization of the vaccine for all current 27 European member states, however the UK recently modified legislation allowing the MHRA to issue temporary UK-only authorization prior to any approval from the EMA, in the case of urgent public need.
Pfizer and BioNTech have submitted for both US and EU Emergency Use Authorization (EUA), with the FDA's decision to be made on December 10, 2020. Moderna is following suit with both US and EU authorization submissions, with the FDA's decision to be made on the December 17, 2020. The EMA will decide next month whether to approve Pfizer and BioNTech's BNT-162b2 and Moderna's mRNA-1273.
Pfizer said 50 million vaccine doses will be available by the end of the year and 1.3 billion in 2021, and Moderna plans to have 20 million vaccine doses for the US by the end of 2021, and 500 million to one billion doses globally in 2021.
Cartic concludes: "The results of the US election may mean that the US will soon join COVAX, a procurement scheme for high-, middle-, and low-income countries. President-elect Joe Biden's team is expected to join talks about the COVAX plan, in which higher-income countries have paid up front to reserve their doses. These funds will pay for manufacturing scale-up of the vaccine production."