11 Mar 2020
US percutaneous ventricular assist device market expected to grow at a CAGR of 11.6% by 2028, says GlobalData
Posted in
Coronavirus
There are more than 160,000 patients undergoing percutaneous coronary interventions to treat cardiogenic shock each year, yet only just fewer than 5,000 are currently treated with a percutaneous ventricular assist device (PVAD), according to GlobalData, a leading data and analytics company.
Ashley Young, Medical Devices Analyst at GlobalData, comments: "PVADs are gaining increased attention due to their ability to stabilize the heart during emergency or high-risk procedures, using a minimally-invasive approach. However, these devices are currently barely scratching the surface of their market potential."
The company's latest report, 'Short-Term Circulatory Support Devices Market Analysis and Forecast Model', reveals that physicians are beginning to realize the benefits of these devices over others such as intra-aortic balloon pumps (IABPs). As such, GlobalData predicts that the market value of PVADs in the US will grow at a large compound annual growth rate (CAGR) of 11.6% between 2019 and 2028.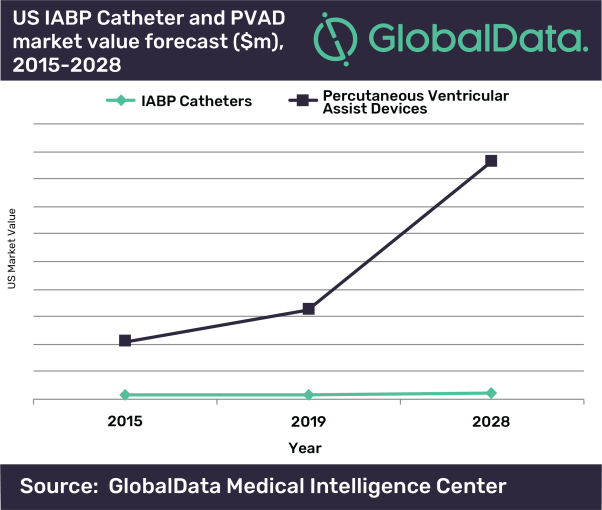 IMAGE Available: US IABP Catheter and PVAD market value forecast ($m), 2015-2028
Young continued: "The usage of PVADs over IABPs comes down to the physician's decision at the time of procedure. Physicians have been encouraged to adopt PVADs such as Abiomed's Impella device in past years due to solid clinical trial results and the minimally-invasive nature of the devices.
"Negative press surrounding the safety of the Impella, released at the end of 2019, has introduced a sense of caution surrounding PVADs, which may negatively impact their use in future. PVADs will continue to demonstrate strong growth if they are able to overcome these safety concerns."
"Events such as the recent American Heart Month will affect this market in multiple ways, including increasing awareness surrounding overall heart health such as promoting fitness and healthy eating. This will reduce emergency cardiovascular events and may have a long-term negative effect on the market of both IABPs and PVADs. However, increased attention on heart health may also encourage physicians to consider all of their options when deciding how to treat patients undergoing emergency heart procedures."
Information based on GlobalData's report: 'Short-Term Circulatory Support Devices Market Analysis and Forecast Model'​​​​