13 Oct 2020
Vaccine research shows promise as need grows with second waves of COVID-19
Posted in
Pharma
Second waves of COVID-19 worldwide will coincide with the start of the winter months in the northern hemisphere and with the flu season, making the development of a viable vaccine even more imperative to prevent a worsening of the impact of COVID-19, says GlobalData, a leading data and analytics company.
Mohamed Abukar, Pharma Analyst at GlobalData, comments: "The US currently has a number of exciting vaccine prospects that are being developed. The lead US candidates include those developed by Moderna, Pfizer – in partnership with BioNTech, Johnson & Johnson, and Novavax. The University of Oxford's collaboration with AstraZeneca serves as one of the most promising prospects from Europe. Two other prominent vaccines include China's Sinopharm and the Russian vaccine Sputnik V."
The largest proportion of vaccine trials are currently at 'planned' status. By phase, the largest proportion of trials are in Phase I (42.7%), and Phase II studies have the largest proportion of vaccine trials that are in 'ongoing' status (15.1%). Almost all Phase IV COVID-19 vaccine trials utilize the BCG vaccine. At present, no COVID-19 vaccine clinical trials have been terminated.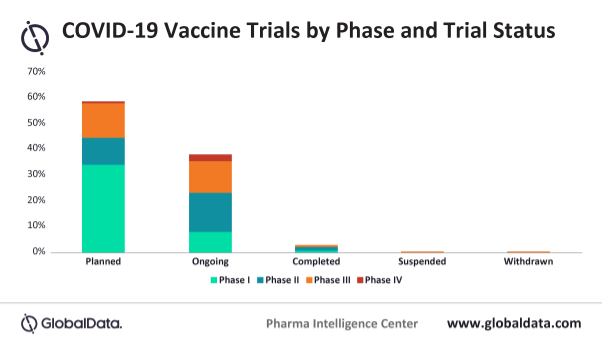 Only 2.9% of COVID-19 vaccine trials have been completed, which highlights the importance of interim results being reported by sponsors to proceed to later stages of development. Concerning site locations, the US takes the lead with 11.8% – narrowly outnumbering China at 11% – and in third place is India with 9.7%). There are no European countries within the top five site locations for vaccine trials, potentially suggesting a prioritization of therapeutics in the region.
Abukar concludes: "While it is promising that differing approaches to developing vaccines worldwide are beginning to demonstrate tangible results, an increased level of collaboration between the leading nations would be welcomed as the burden from COVID-19 is felt globally. Furthermore, the race to determine a viable vaccine candidate must always consider patient safety as paramount."