14 May 2020
VC funding activity declined in nearly all regions in Q1 2020
Posted in
Business Fundamentals
With the COVID-19 pandemic impacting businesses and economies, the first quarter (Q1) of 2020 was characterized by diminishing venture capital (VC) funding deal volume. Nearly all regions witnessed a decline in deal volume towards the end of the quarter, according to GlobalData, a leading data and analytics company.
Globally, the number of VC funding deals that were announced declined from 1,659 in January 2020 to 1,536 in February and 1,511 in March 2020.
Aurojyoti Bose, Lead Analyst at GlobalData, comments: "The slowdown in VC funding activity is likely to continue for the duration of Q2, with the quarter already starting on a slower note and deal activity in April 2020 showcasing a significant decline."
All regions except Asia-Pacific (APAC) witnessed decline in VC funding deals in March compared to February. Total funding value also declined or remained flat for all regions except APAC during the months of Q1.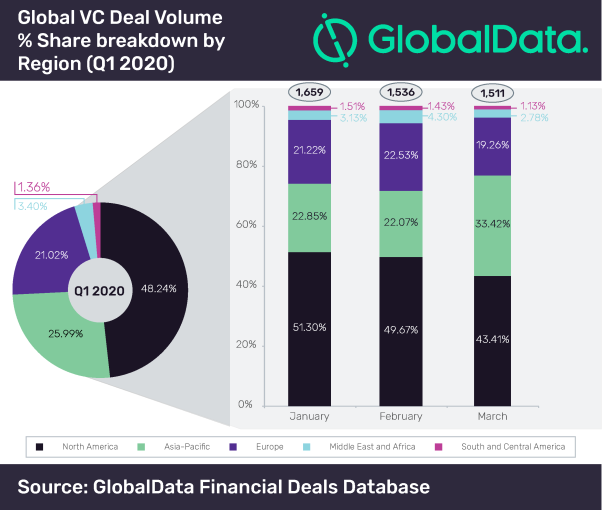 North America experienced a decline in the number of VC investments from 851 in January to 763 in February and 656 in March. Despite a consistent decline in VC funding activity during the months of Q1 2020, North America continued to account for the highest number of investments.
The region accounted for 48.2% of global VC investment volume in Q1 2020, followed by APAC with 26% and Europe with 21% share. Middle East and Africa, and South and Central America garnered 3.4% and 1.4% shares, respectively.
The number of announced VC funding deals in Europe declined from 352 in January to 346 in February and 291 in March. In contrast, VC investment deal volume in APAC reached 505 deals in March, after registering a decline from 379 deals in January to 339 deals in February. The region also benefited from the announcement of some big ticket deals (such as US$1.2bn raised by Indonesia-based Go-Jek and US$1bn funding raised by China-based Yuanfudao) during March.
Though VC funding activity in the APAC region rebounded in March, the region's overall Q1 VC funding volume still remains below the Q4 2019 levels.
Bose adds: "The optimism in VC funding activity in APAC could be attributed to the decline in new COVID-19 cases and the easing of the lockdown in China during March."
China, where the outbreak appears to have originated, began imposing lockdown measures in January and after a decline in new cases, it began to lift the lockdown and started opening its economy in March. In contrast, concerns related to the virus outbreak grew much later in other regions with some of them still continuing with lockdowns.
Bose concludes: "Some media reports indicating at a second wave of the virus hitting China are likely to make VC investors adopt a cautious approach, while the VC funding activity in other regions is also likely to remain subdued for a few more months."