31 Oct 2018
Wealth managers should stop making excuses and adopt blockchain, says GlobalData
Posted in
Press Release
It has been 10 years since the first blockchain was conceptualized and yet confusion persists, with wealth managers lagging behind when it comes to adopting the technology says GlobalData, a leading data and analytics company.
Attending the recent Money20/20 event, Heike van den Hoevel, Senior Wealth Management Analyst at GlobalData says, "Bring a panel of experts together at an event like Money 20/20 and they will not only disagree on where we are headed in the blockchain universe, but what exactly makes a blockchain and what differentiates it from a database.''
It therefore comes as no surprise that in a sector reliant on personal relationships the adoption of blockchain in the wealth management space has been slow. However, as van den Hoevel explains, ''this has to change as increasing regulatory pressures and rising compliance costs will drive the adoption of new technologies, particularly when they offer much needed efficiencies."
According to GlobalData's 2017 Global Wealth Managers Survey, 74.1% of wealth managers agree that high cost-to-income ratios are a concern while 71.6% believe so of local regulatory changes.
However, as the survey results show, there is a general lack of confidence amongst wealth managers relating to the security of blockchain, with 30% agreeing that it isn't secure enough for a wide-use scale and 35% feeling that it is not relevant for client-facing operations.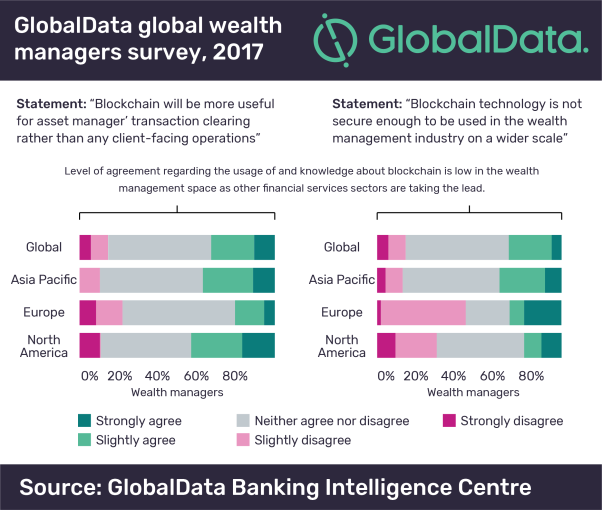 IMAGE FOR PUBLICATION: Please click link for chart: GlobalData global wealth
managers survey, 2017
van den Hoevel continues, ''Blockchain technology has the potential to address both of these issues, for example, increasingly stringent 'know your customer' (KYC) and 'Anti-Money Laundering rules' (AML) requirements are a headache when it comes to client onboarding. Blockchain presents a solution because records are immutable, and with a customer's authorization data could be shared instantly across different institutions, significantly cutting down onboarding times and costs.''
With other financial services sectors taking the lead a significant proportion of wealth managers lack even a basic understanding of blockchain or opinion on how the technology could be used in their space.
van den Hoevel adds, ''Despite the ongoing confusion surrounding blockchain there are already tangible benefits to be had and it's time for the sector to stop making excuses and adopt."
ENDS
For more information

To gain access to our latest press releases: GlobalData Media Centre
Analysts available for comment. Please contact the GlobalData Press Office:
Email: pr@globaldata.com
EMEA & Americas: +44 (0)207 832 4399
Asia-Pacific: +91 40 6616 6809
To gain access to our latest press releases and expert analysis on developments in your industry, please connect with us on:
GlobalData.com | LinkedIn | Twitter
About GlobalData
4,000 of the world's largest companies, including over 70% of FTSE 100 and 60% of Fortune 100 companies, make more timely and better business decisions thanks to GlobalData's unique data, expert analysis and innovative solutions, all in one platform. GlobalData's mission is to help our clients decode the future to be more successful and innovative across a range of industries, including the healthcare, consumer, retail, financial, technology, energy and professional services sectors. PR3022