09 Jan, 2020

Mine communication systems and drones key investment priorities for miners

Posted in

Construction
The drive to improve productivity, efficiency and safety is leading to rising investment by mining companies, large and small, in a wide range of technologies. Already the extent of mines having invested in mine planning and management software is high, but there are rising levels of investment particularly in mine communication systems and drones, according to GlobalData, a leading data and analytics company.
The company's latest report, 'Global Mine-Site Technology Adoption Survey 2019', reveals that 61% of mine sites have already made considerable investment in fully implemented mine communication systems, such as private LTE networks or 5G (55% in 2018), while 56% of mines have invested to some extent in drones compared with 44% in 2018. Furthermore, 47% of mine sites surveyed intend to invest within the next two years, either for the first time or in addition to existing investments, in mine communication systems, while the figure is 41% for drones.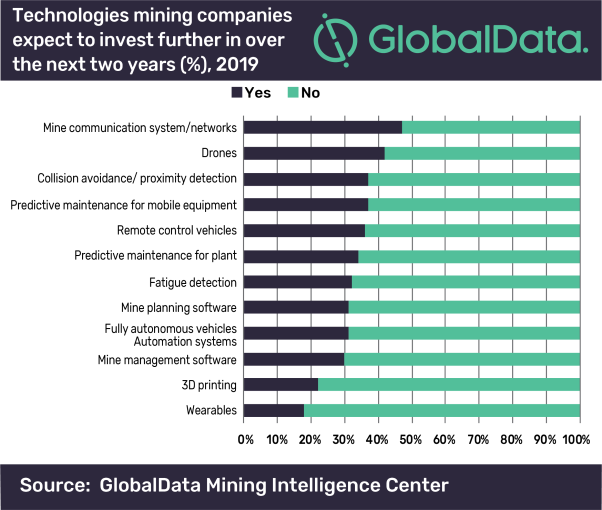 IMAGE FOR PUBLICATION: Please click here for chart
David Kurtz, Director of Analysis, Mining and Construction at GlobalData, commented: "Further investment in communication systems is critical for mines looking to extend levels of automation or deployment of Internet of Things (IoT) devices. This is driving the rising use of private LTE networks and 5G use within the mining sector as it seeks continued improvements in productivity through higher utilisation."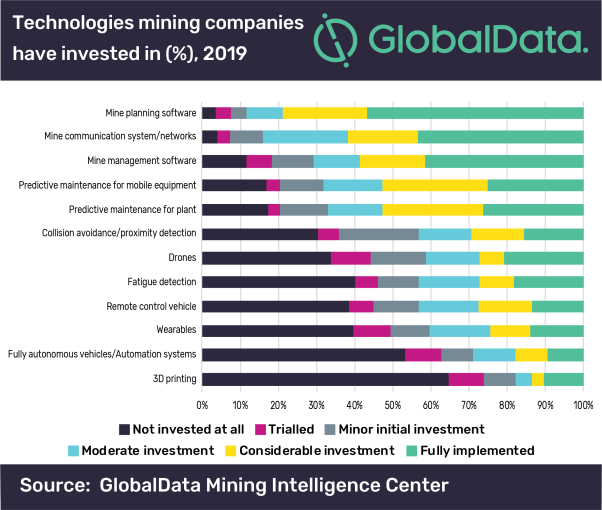 IMAGE FOR PUBLICATION: Please click here for chart
While the majors have lead the way in investment in communication systems, small and mid-tier miners are now joining suit. Similar shares of both groups have made considerable investments or fully implemented communication systems, while 53% of smaller miners are expecting to make investments in this area over the next two years – the highest share of any of the technologies investigated.
Drones were used less widely, but uptake is growing rapidly. Some 21% of mine sites surveyed at the end of 2019 had fully invested in drones, compared to just 9% in 2018 and 45% of majors and 41% of non-majors expect to invest in drones in the next two years.
Kurtz adds: "Investment in drones is not expensive, but the payback in terms of cost savings, faster decision-making and improved productivity means it is not surprising to see such a rapid increase in levels of investing."