As pharmaceutical companies continue to grapple with issues ranging from lack of transparency on pricing, price gouging to questionable ethical practices and clinical data reporting processes, addressing environmental, social, and governance (ESG) issues will continue to be an important, and perhaps beneficial theme for the industry in 2021, says GlobalData a leading data and analytics company.
In a recent GlobalData poll* it was highlighted that environmental issues were viewed as the most important ESG area that pharma needs to address, according to 43% of respondents. This was followed by social issues with 31% of respondents and governance issues with 26% of respondents. In this poll, the respondents believed that within environmental issues, climate change will be the most pressing issue (52%), followed by pollution (32%).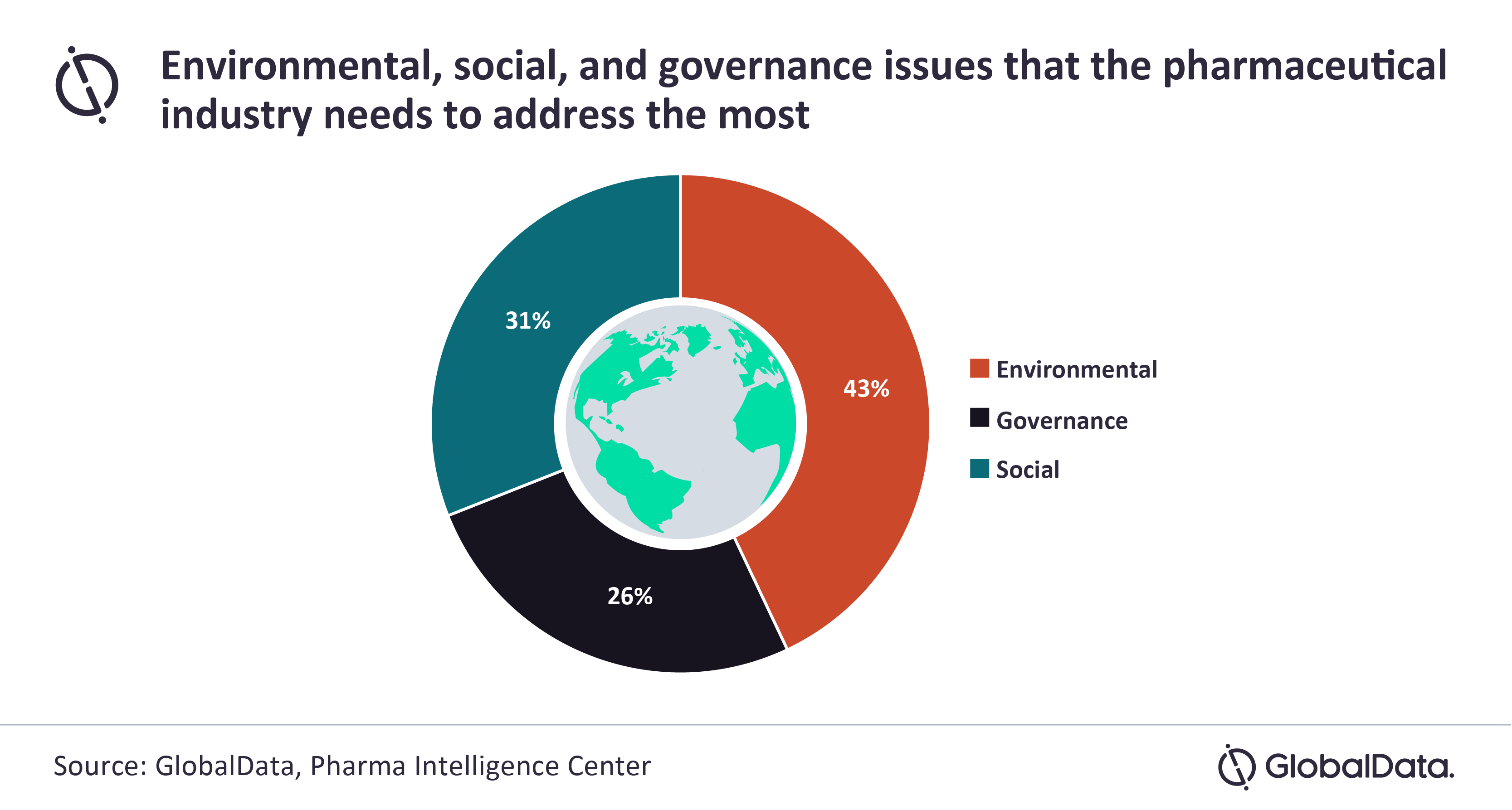 Urte Jakimaviciute MSc, Senior Director of Market Research, comments: "For a long time the impact of the pharmaceutical industry on sustainability was rather overlooked, but as the pressures to manage sustainability risks are intensifying on a global scale, the pharmaceutical industry will need to act on this trend. Pressed by consumers, governments, investors and regulators, companies will be under increasing pressure to become more sustainable and commit to ESG strategies.
"Through an entire pharmaceutical product lifecycle – production, consumption and disposal – the pharmaceutical industry is significantly impacting the environment. Even though some pharmaceutical companies are stepping up their efforts to tackle the issue, the sector is far from being green. Due to the lack of adequate regulations, especially in the low-cost pharmaceutical manufacturing destinations, the environmental impact of manufacturing discharges is escalating and becoming an urgent concern."
Sustainability is not just about the environmental impact. It has morphed into an umbrella term for ESG issues, and the spotlight is now on corporations to address these concerns.
Jakimaviciute continues: "Addressing social issues in pharma requires a balance between providing drugs that improve and extend life while ensuring profitability. The elements that contribute to social sustainability include pricing, market access, R&D practices, quality of supply chains (including ethics, labor, health, and safety), and the development of drugs to treat rare diseases. Responsible governance factors rely on regulations, external initiatives, commitments to guidelines, compliance with quality, transparency, combatting corruption, and movement toward more patient-centric business models.
"While the pharmaceutical industry has been long battling a negative reputation, COVID-19 has given a unique opportunity for pharma to redeem its reputation and heighten its value by delivering COVID-19 therapeutics and vaccines. Nonetheless, if the pharma industry fails to demonstrate that it put the patients and sustainability before profits, helping to curb COVID-19 alone, may not help pharma with its reputation re-set attempts."
*GlobalData poll was completed by 434 readers of Pharmaceutical Technology website between January 12–February 16.