23 Apr, 2020

GlobalData sees mild reversal in fortune for top 20 global innovative pharma companies by market capitalization in Q1 2020

Posted in

Pharma
The majority of the top 20 global innovative pharma companies, identified by GlobalData, declined in market cap (MCap) in Q1 2020 (quarter ended 31 March 2020), with the overall list witnessing a decline of 7.9% with aggregate MCap of around US$2.6 trillion as compared to Q4 2019 (quarter ended 31 December 2019).
Johnson & Johnson continues to maintain top position, though it suffered a 10% decline in its quarter-on-quarter (QoQ) MCap.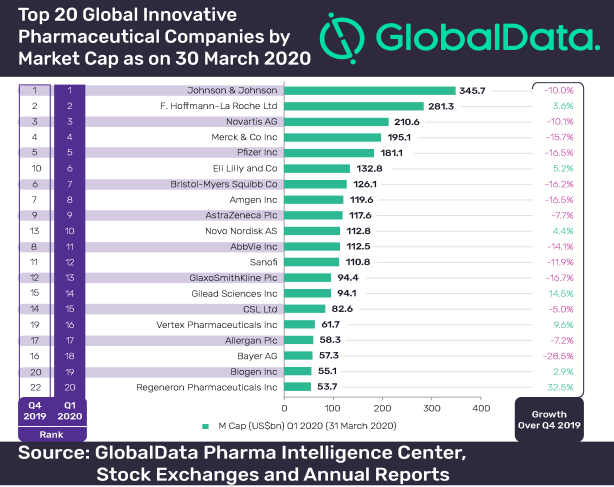 Peter Shapiro, Senior Director of Drugs and Business Fundamentals for GlobalData comments: "The reversal of fortune, due to COVID-19, may seem dramatic due to these companies' long-term growth, however, the effect on the pharmaceutical industry has been mild compared to other industries."
The MCap of the majority of the top 20 global innovative pharma companies fell in Q1 due to the COVID-19 pandemic, which has led to a global economic slowdown. Among the 13 pharma companies on the list that suffered MCap decline in Q1 2020, Bayer registered more than 25% quarter-on-quarter (QoQ) decline followed by GlaxoSmithKline, Amgen, Pfizer, Bristol-Myers Squibb Co and Merck & Co, recording more than 15% drop in their MCap.
Regeneron Pharmaceuticals and Gilead Sciences were the only companies that registered more than 10% growth in their MCap. Regeneron recorded a 32.5% QoQ MCap growth due to its evaluation of anti-inflammatory drug Kevzara for COVID-19, which is currently marketed for rheumatoid arthritis. Kevzara is in a phase II/III clinical study targeting severe cases of COVID-19 along with an anti-inflammatory cocktail therapy. Interestingly, Regeneron's development partner for Kevzara, Sanofi, suffered more than 10% MCap decline in Q1 2020.
Shapiro added: "Companies are adapting drugs originally developed as follow-on drugs for chronic autoimmune disorders to mitigate the cytokine storm syndrome (CSS) of the immune system, which is associated with the worst cases of COVID-19."
Gilead recorded MCap growth of 14.5% due its COVID-19-compassionate use and clinical trials of its anti-inflammatory drug remdesivir for CSS-related to COVID-19.
Shapiro continued: "Roche has only seen mild gains (3.9%) in its MCap, despite having an anti-inflammatory tocilizumab that is also in clinical trials for CSS related to COVID-19."
Vertex Pharmaceuticals and Eli Lilly and Co registered QoQ MCap growth of more than 5%, even in the ongoing market downturn, with several positive late-stage drug candidates and new pipeline assets. Vertex expanded its MCap by 9.6% to US$61.7bn on the back of a new regulatory approval and label expansions for its cystic fibrosis medicines.