26 Nov, 2020

Ecuador could achieve optimistic >400MW solar PV capacity by 2030, says GlobalData

Posted in

Power
Ecuador is taking nascent steps in deploying renewable energy (RE) sources such as solar PV, with the 14.8MW Conolophus Solar PV venture and the 200MW El Aromo photovoltaic project – the latter of which will be the largest in the country – set to come online in the near future. With an expected growth of about 15% over the decade, an optimistic scenario reflects a situation where annual installations pick up the pace every year starting from 2023, according to projections by data and analytics company GlobalData. Furthermore, the company estimates that the annual installations beyond 2025 will be more than 50MW.
Somik Das, Senior Power Analyst at GlobalData, comments: "As of 2019, with an installed capacity of 26.7 MW, solar PV formed a negligible portion of Ecuador's capacity mix. Going ahead, GlobalData notes that growth in solar capacity is anticipated to see an expansion, seeing cumulative installed capacity of more than 4GW by 2030.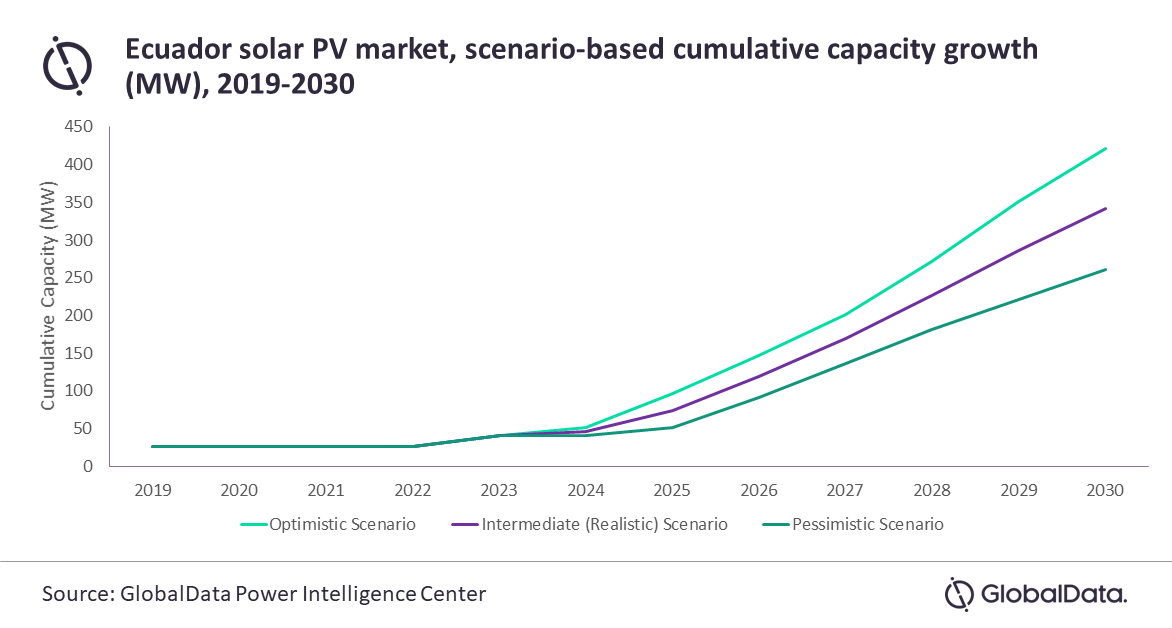 Das continues: "In a more pessimistic scenario, the growth of Ecuador's solar segment over the decade sits at around 8-9%. This outcome would see less than 25MW of solar capacity come online before 2025, and, in the second half of the decade, annual installations would not be expected to not cross the 50MW mark. This scenario highlights an extremely shunted growth of the solar segment in the country, which would mean that the segment would be considerably smaller compared to the other technologies up to around mid-decade. This worst-case scenario is a situation where the expansion of the segment is restrained, and the cumulative installed capacity by 2030 is predicted to be approximately 2.6GW.
"On upcoming projects, the Conolophus Solar PV venture – the official timeline of which is expected to be announced in February 2021 – will most likely come online by 2023. Beyond this, further capacity additions in Ecuador sit in the grey zone. If the authorities truly make a stand, and favorable policies are implemented, the growth of solar PV could be quite promising. However, COVID-19 has caused the pushback of deadlines for the EL-Aromo project, which represents a huge portion of the country's additions. Optimistically, the venture could come online by 2025 – but further delays may extend this by another year."
While solar additions are a key area of Ecuador's energy mix that has potential for growth, the country's power space has long been dominated by hydropower and oil-based generation. Continuing this trend, hydropower is anticipated to account for more than 65% of Ecuador's power supply in 2030 – as it remains a key cost-optimal generation technology in the long-term. Oil-based generation shapes the second highest generation in the generation mix.