24 Jan, 2020

AR is set to succeed VR as leader in the healthcare space owing to diminishing costs and increasing capabilities

Posted in

Press Release
Virtual reality (VR) and augmented reality (AR) technologies have been traditionally associated with the entertainment industry, with virtual and immersive environments used for gamers, product designers, and architects. However, increasing healthcare expenditure and the need for cutting-edge technologies to aid the development of novel therapies and diagnostics have fuelled the need for this technology in the healthcare industry, according to GlobalData, a leading data and analytics company.
GlobalData's latest report, 'Virtual/Augmented Reality in Healthcare', reveals that as the technology advances and with the availability of cheaper, more user-friendly VR/AR headsets, the barriers to its widespread use in healthcare are beginning to fall. While still in the early stages of adoption, there are myriad possibilities for VR/AR technology in the healthcare sector, including medical education, image-guided treatment, the treatment of neuropsychological conditions, and visual impairment, as well as use in rehabilitation.
In 2018, the wearable VR market alone was worth nearly $7bn and is likely to grow at a compound annual growth rate (CAGR) of 13% reaching $28bn by 2030. Meanwhile, the AR market in 2018 was worth $4bn and is likely to grow at an impressive CAGR of 24%, overtaking VR and reaching $76bn by 2030.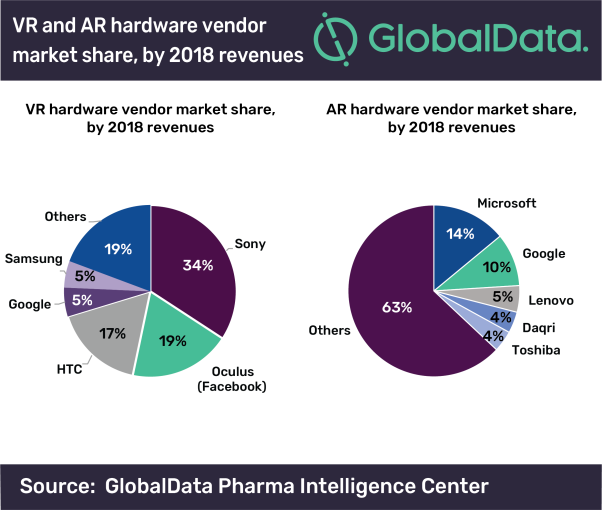 IMAGE FOR PUBLICATION: Please click here
Roxanne Balfe, MSc, Digital HealthcareAnalyst at GlobalData, says: "In the healthcare space, VR technology has been used for many years to train surgeons for high-risk invasive procedures, but the high cost, size, and complexity of VR surgical simulators has generally restricted their widespread use. While AR has experienced a slower adoption, due to technical complexities such as battery life and user interface, as well as wearing comfort, it is steadily gaining traction.
"One advantage of AR in healthcare is that users remain in touch with their surroundings, as opposed to VR which detaches the user completely from reality. Another major advantage of AR is the ability to put information into the eyesight of the user in real-time, important in time-sensitive situations.
GlobalData estimates that by 2030 AR devices will be more user-friendly, less conspicuous, and have an arguably wider breadth of application in comparison to VR and will likely occupy more of the market share than seen today.
Balfe continues: "Despite existing technical limitations, the availability of cheaper VR/AR headsets and smart glasses is growing, as well as the ability to use VR/AR applications on smartphones; ultimately leading to the technology becoming more mainstream. Additionally, as devices and apps specialize, adding artificial intelligence (AI) and machine learning (ML) capabilities, haptic feedback, and interactive features and sensors, their integration in healthcare is more likely. Opportunities are diverse, from clinical research, medical practices, patient education, and therapeutic delivery, as well as pharmacy and drug design."
There is a budding interest in using VR/AR for neuropsychological conditions, with applications available or in development to treat autism, post-traumatic stress disorder (PTSD), depression, phobias, addiction, pain, stress, and anxiety, all areas in desperate need of novel solutions.
Balfe concludes: "From a consumer perspective, the ease of downloading an app remotely that can assist in recovery or the delivery of healthcare has untold value; and from a wider view, augmented and virtual realities promise to contribute to the tech-assisted transformation currently underway in healthcare."