07 Jan, 2020

IoT revenue to more than double in Middle East and Africa by 2023, says GlobalData

Posted in

Technology
Interest in the Internet of Things (IoT) is gaining momentum in Africa and the Middle East (AME) region. Stakeholders are exploring and identifying key areas of growth despite IoT still being in early stages of uptake throughout a number of verticals, says GlobalData, a leading data and analytics company.
The company's latest report, 'Telco IoT Offerings and Market Opportunity Assessment in AME', notes that the AME will be the second-fastest growing region for IoT revenue, second behind the Asia-Pacific. The utilities, government and manufacturing verticals will be driving this revenue, having accounted for more than 50% of the total IoT opportunity in the area in 2018.
Houda Bostanji, EMEA Telecoms Director at GlobalData, commented: "IoT expenditure in the region reflects the Gulf Cooperation Council's (GCC's) primary investment areas. With some of the most high-profile smart city programs, government and transportation, spend is high. There is a commonality across leading vertical industries such as government, utilities and manufacturing in many regions. These verticals account for significant spend, which is expected to continue throughout the forecast period.
"Standardized use cases might be developed by global telcos to cater for common needs across the world, for example catalogues of smart metering, smart cities and Industry 4.0 solutions."
Going forward, the AME IoT market is forecasted to more than double by 2023, reaching over $20bn.
Bostanji continues: "Most expenditure will remain on the IoT software and services side, but IoT devices will be the fastest revenue growth segment as costs are forecasted to increase as edge computing is explored and adopted. Connectivity will continue to account for the smallest share of the total IoT market opportunity, at 13%-14%."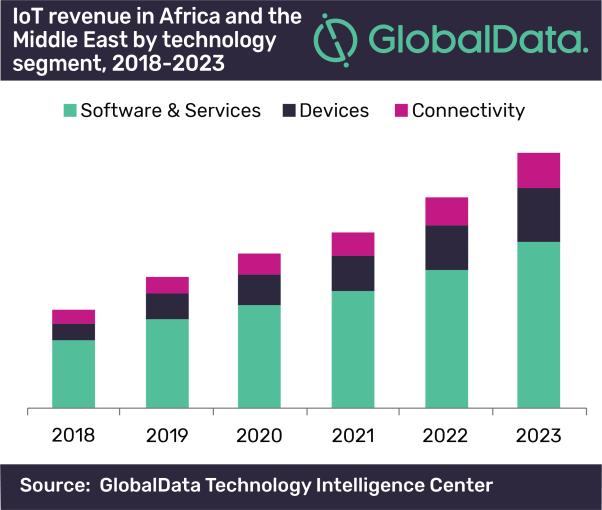 IMAGE Available: IoT revenue in Africa and the Middle East by technology segment, 2018-2023
Telecom operators are focused on finding ways to increase their role within the IoT ecosystem and capturing a larger proportion of the revenue potential associated with IoT deployments that extend beyond the connectivity and network management layers of an IoT value chain.
Bostanji adds: "Telcos are quickly perceiving that before developing vertical-focused IoT applications, they need to act horizontally at a platform level. By offering horizontal solutions such as platforms (PaaS) for developers, as well as cloud and analytics solutions geared towards IoT projects, telcos can achieve scale by acting across different sectors.
"A number of telcos have launched platform-focused solutions, including open standard platform as a service (PaaS), cloud, and big data & analytics offerings geared towards IoT implementations. For example, Ooredoo Qatar launched an IoT platform that enabled applications development and connected devices management for enterprises. Furthermore, the platform provides real-time analytics and device security."