16 Apr 2019
Advancement of LNG business will transform Mozambique into a top 10 global LNG supplier, says GlobalData
Posted in
Press Release
Mozambique is expected to become one of the world's top 10 largest LNG producers by the mid-2020s, when over 30 million tonnes per annum (mtpa) of LNG comes on stream, on a par with capacity in African leaders Nigeria and Algeria, says GlobalData, a leading data and analytics company.
The feed gas for new LNG projects will come from the ultra-deepwater Rovuma Basin, where over 125 trillion cubic feet (tcf) of recoverable natural gas resources have been discovered to date. This consists of 75 tcf in block Area 1 and 50 tcf in block Area 4. Participants in Area 1 and 4 are now progressing towards final investment decisions (FID) for the onshore LNG terminals.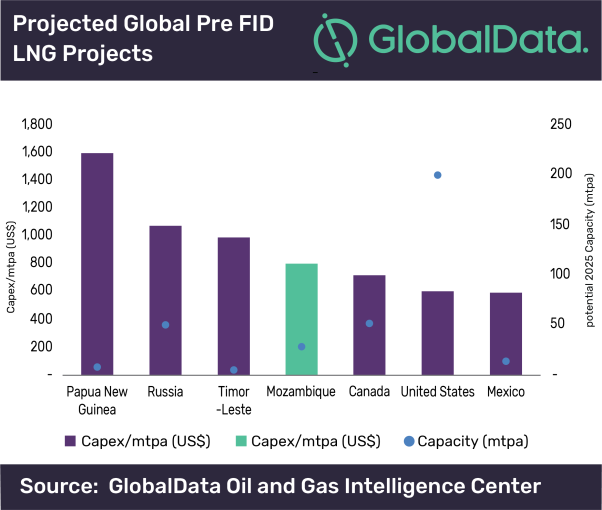 IMAGE FOR PUBLICATION: Please click here for chart
Cao Chai, Oil and Gas Analyst at GlobalData, says: "The development break-even gas price of around US$4-5 per thousand cubic feet (mcf) for the onshore LNG projects in Mozambique is competitive compared to current Japan spot LNG prices of US$9.24 per mcf. This is due to the relatively low expected capex per mtpa in comparison to other integrated LNG projects around the world, and the low upstream cost compared to non-integrated LNG projects in the Americas. "
Both external and internal Mozambique-specific challenges have slowed progression of LNG developments in the country. However, positive signs such as securing additional gas sales and purchase agreements have formed the majority of the activity from Mozambique and Rovuma LNG participants so far in 2019. These contracts are a key part of the projects progression towards the construction phase, as they provide some certainty about future revenues to underpin the massive capex of nearly US$40bn required to bring these facilities online.
Chai concludes: "The advancement of LNG business in Mozambique will transform the country to a major global LNG supplier. It will also bring direct revenue to Mozambique government and promote the growth of local industries through a domestic gas component of the initial project and follow-on expansions. Furthermore, construction on the LNG megaprojects is expected to last for over a decade providing significant employment and training opportunities for Mozambicans."