17 Dec 2018
Black Friday did not deliver the November boost that UK retailers desperately needed, says GlobalData
Posted in
Retail
The heavy and prolonged period of discounting around Black Friday failed to boost overall retail spending in the UK in November as GlobalData's total retail index fell by 6.9 points versus October, driven down by a decrease in instore spending.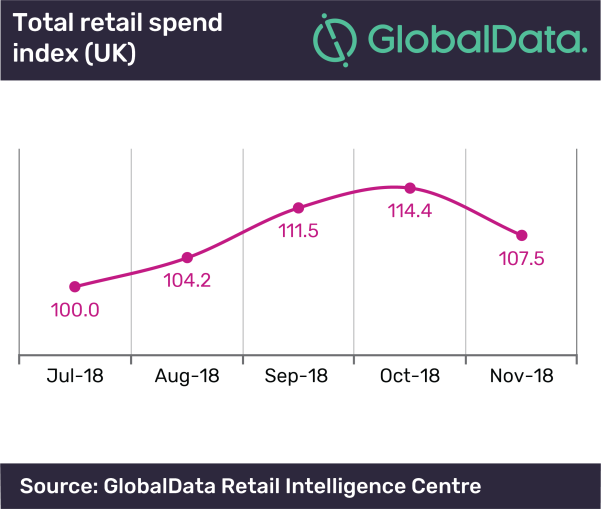 IMAGE FOR PUBLICATION: Please click here for enlarged chart
The company's latest report 'UK Monthly Spend Tracker – November' reveals a decline in the total retail spend index in November versus October despite the hype around Black Friday, as low consumer confidence continues to impact spend thanks to the enduring uncertainty surrounding Brexit. Black Friday did not increase overall retail spending in November – instead it shifted retailer's sales into one week and dampened consumer spending either side of the event, evident from John Lewis & Partners' weekly sales reports.
Emily Salter, Retail Analyst for GlobalData commented: "Instore retail suffered the most in November – the instore retail spend index fell by 10.1 points on October as footfall remained subdued despite Christmas looming. In contrast, the online channel bounced back with a 3.6 point increase in the online retail spend index versus October as it was bolstered by enticing Black Friday discounts at online pureplays."
As the weather stayed relatively mild throughout November, the total spend index for clothing decreased by 6.8 points on October, dragged down by instore spending, as consumers held back from buying more expensive winter items like outerwear and knitwear. Clothing fared better online, as many retailers provided extensive offers via this channel and deep discounts at online pureplays encouraged shoppers to spend.
Salter continues: "As Primark warned of a tough trading month in November and Mike Ashley stated that it was the worst November on record for retail, retailers can only hope for a rush of consumer spending in December."
'*' The survey data is taken from GlobalData Retail's 2018 monthly surveys of 2,000 respondents. The indexes are calculated by summing the monthly spend for all UK consumers surveyed (July 2018 = 100).