29 May 2019
Germany is set to increase its defense spending at a CAGR of 6.5% over 2020–2024, says GlobalData
Posted in
Press Release
In spite of declining tax revenues and slowing economic growth, Germany is set to increase its military spending to 1.4% of GDP by 2024 in a move to reassure its NATO allies, according to GlobalData, a leading data and analytics company.
GlobalData's latest report 'German Defense Market – Attractiveness, Competitive Landscape and Forecast to 2024' explains that Berlin intends to boost its defense expenditure in an attempt to strengthen the combat readiness of its armed forces, with the country's overall defense budget increasing at a CAGR of 6.5% between 2020 and 2024.
Considering its economic weight, Germany is usually considered as the export powerhouse of the European Union and its de facto leader. However, the shadow of history combined to the post-Cold War 'peace dividend' has kept Germany from becoming a major military power, frequently leaving leadership in that domain to France and the United Kingdom.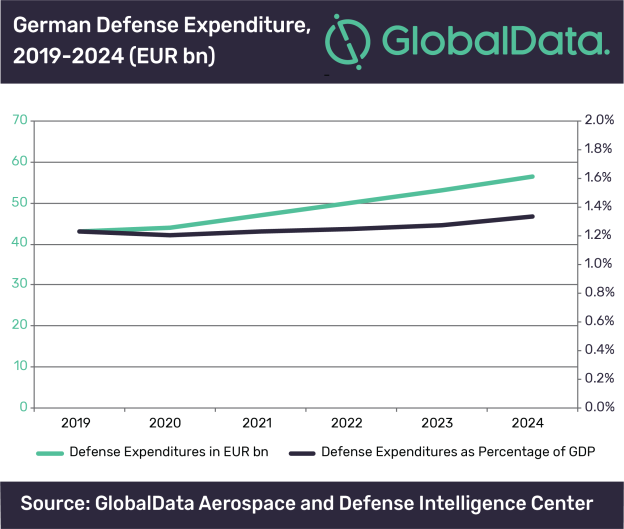 IMAGE FOR PUBLICATION: Please click here for chart
Nicolas Jouan, Aerospace & Defense Analyst at GlobalData comments, "Recent developments are inviting Germany to revise its traditional posture. The Russian annexation of Crimea in 2014 was a turning point for Berlin and the perception of its immediate security environment. The prospect of an open conflict with a peer adversary is not as remote as it used to be, and the need for better combat readiness has become more salient in German minds."
Furthermore, the election of Donald Trump as American president in 2016 has changed the Western security consensus almost overnight. President Trump is adamant in his willingness to see America's allies participating more decisively to their own defense. Germany's defense spending was expressly targeted by the American president during a July 2018 NATO summit. Despite Mr. Trump's lack of popularity in Europe, many foreign analysts thought he had a point.
However, increasing defense expenditures remains a bumpy road for Germany. Despite the political will displayed by incumbent defense minister Ursula von der Leyen, the traditional middle-ground of the Federal Republic's military strategy (between asymmetric and regular warfare) is unfit at a time of choices for new investments orientation. Furthermore, its partnership with France for weapon development has recently soured amidst disagreements on export policy, Germany being in favor of tightening the rules.
Jouan adds, "Berlin still has a long road ahead in its quest for a better military readiness, and boosting defense expenditures is only one step among many."