18 Dec 2018
Global hip and knee replacement market set to be worth $20.4bn by 2028, says GlobalData
Posted in
Press Release
The hip and knee replacement markets are worth approximately 25% of the global orthopedics market, growing steadily at a compound annual growth rate (CAGR) of approximately 2.6% between 2018 and 2028, says GlobalData, a leading data and analytics company.
Jennifer Ryan, Medical Analyst at GlobalData comments, "The market is driven mainly by the growing patient population and expansion into developing markets, as well as technological advancements that improve the surgical implant procedure.
"North America is the largest regional market, with revenues expected to reach $9.0bn by 2028, largely due to the rising aging population and these patients' desire to maintain an active lifestyle.
"However, the Asia-Pacific (APAC) market is expected to grow at the fastest CAGR through the forecast period, at a rate of 5.7%. The aging population in APAC is growing rapidly, and as the region continues to seek out a more westernized lifestyle, a change in elderly patients' mentality to accept joint replacement surgery is opening up a new potential patient population."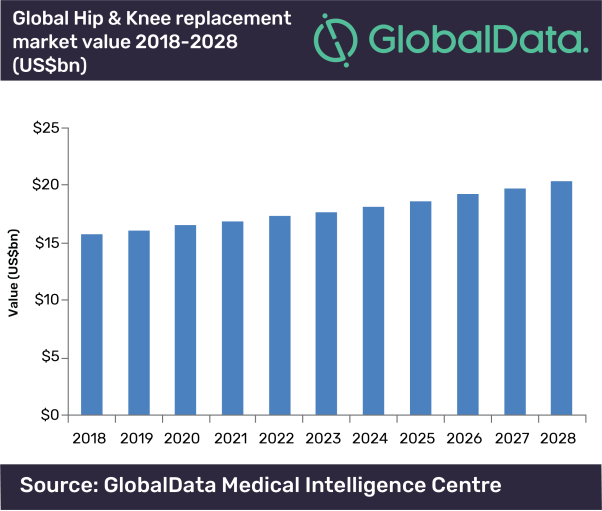 IMAGE FOR PUBLICATION: Please click here for enlarged chart
As a mature market, large multinationals including DePuy Synthes, Smith & Nephew, Stryker, and Zimmer Biomet maintain the majority of the global market share. GlobalData expects these four players will continue to dominate the combined hip and knee replacement markets through the forecast period as the need for a comprehensive large joint portfolio at competitive pricing becomes more important.
Ryan concludes, "Although market growth is expected to be steady through the forecast period, factors such as the growing adoption of alternative treatments, including arthroscopic debridement and viscosupplementation, and ongoing austerity measures in Europe leading to the deferral of elective joint replacement procedures, will slow market expansion and contribute to the low CAGR observed in the European market."