03 May 2019
GlobalData's Top 20 global pharmaceutical companies by market cap (year ended December 31, 2018)
Posted in
Press Release
The performance highlights of the top 20 publicly traded global pharma companies by market cap for the year ended December 31 2018 have been confirmed in the latest research from GlobalData, a leading data and analytics company.
The pharma sector's 2018 versus 2017 year-on-year performance was disappointing, as 14 companies in the top 20 list recorded negative growth, with six companies seeing their market cap fall by more than 15%. Among the positive performances, six companies grew in double digits, with CSL, Eli Lilly, and Merck & Co reporting remarkable market cap growth of 32%, 29%, and 28%, respectively.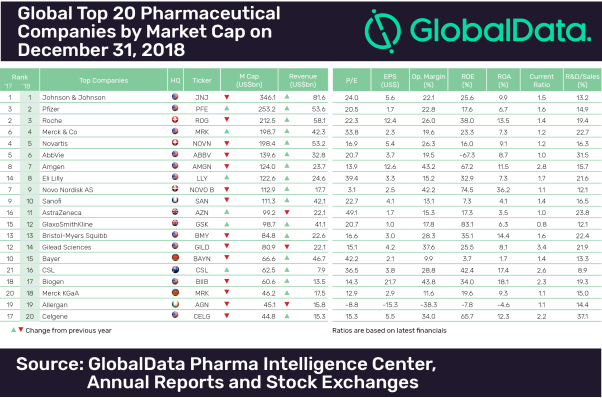 IMAGE FOR PUBLICATION: Please click here for chart 
On December 31, 2018, Johnson & Johnson (J&J), Pfizer, and Roche retained their market position as the top three players based on market cap.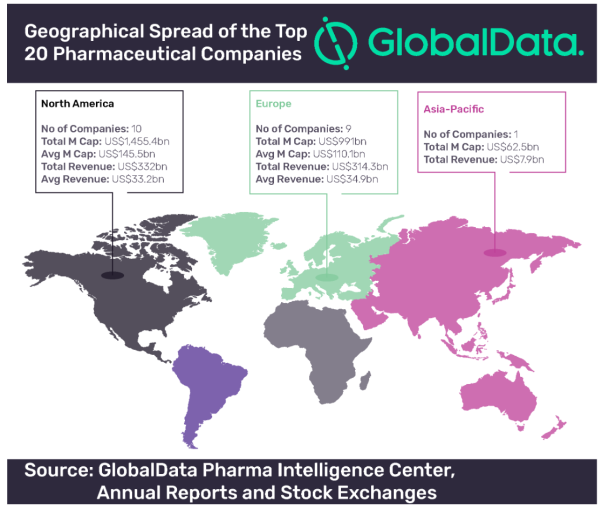 IMAGE FOR PUBLICATION: Please click here for chart
The top 20 companies had an average operating margin of 21.9%, while the top 10 companies reported a better average of 25%. Average price-to-earnings (P/E) for the group was 21.6, with eight companies above the average, signifying optimistic investor sentiment. Of the top 20 companies, Allergan was the only player that reported negative operating margin and negative P/E.
The earnings per share (EPS) average for the group (excluding Allergan, which had negative EPS) was US $5.2, with six companies above the average. Biogen recorded the highest EPS of US$21.7. Average return on equity (ROE) of the group stood at 27.7%, with 10 players above the average and 16 players recording double digit ROE. Average return on assets (ROA) of the group stood at 10.0%, with eight players above the average and 10 players recording double digit ROA.
The group continued to invest in R&D, with an overall R&D/Sales average of 18.6%. Celgene, AbbVie, and AstraZeneca recorded R&D/Sales averages of 37.1%, 31.5%, and 23.8%, respectively.
Sharon Cartic, an Associate Director of Business Fundamentals in the Databases and Analytics team at GlobalData noted that, "The year 2018 reflected a trend by big drug manufacturers, who continued to focus on their strongest areas, which is visible from the completed and planned divestitures of consumer health, generic, and other divisions by top companies including J&J, Pfizer, Novartis, Bristol-Myers Squibb, Bayer, GSK (GlaxoSmithKline), Merck KGaA, and Sanofi, among others. Interestingly, 2018 closed with the high-profile deal announcement of a US$74B acquisition between Bristol-Myers Squibb and Celgene."