17 Dec 2019
Hull mounted sonar set to be fastest growing segment in the global sonar market by 2029
Posted in
Press Release
A robust investment across the globe for equipping naval platforms with sophisticated hull mounted sonars is expected to cause a significant growth in the segment over the next decade. The global naval sonar market is valued at US$2.2bn in 2019 and will grow at a compound annual growth rate (CAGR) of 2.76% to reach a value of US$2.9bn by 2029. The hull mounted sonar is expected to account for 51% revenue share of the total market by 2029, up from 47% in 2019, according to GlobalData, a leading data and analytics company.
Sonars are essential sub-systems installed on naval vessels, submarines and other platforms, which are responsible for performing underwater surveillance, target tracking and identification, sea-bed mapping and navigation. The effectiveness of naval sonar determines the platform's survivability and outcome during a naval combat scenario. Therefore, navies across the globe are looking to equip their naval vessels with advanced sonar systems capable of effectively detecting and tracking threats.
GlobalData's latest report: 'The Global Naval Sonar Market 2019-2029' states that the cumulative global military spending on naval sonars is anticipated to value US$29.1bn over the forecast period. The market consists of five categories: Hull Mounted Sonar, Towed Sonar, Dipping Sonar, Diver Detection Sonar and Sonobuoys.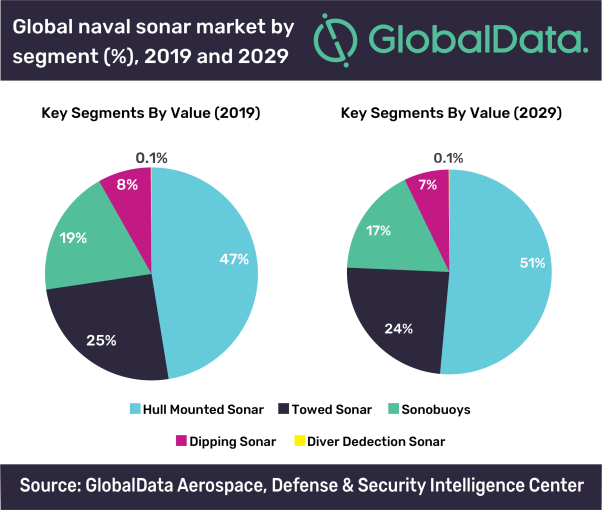 Image for publication: Please click here
Captain Nurettin Sevi (Rtd.), Turkish Navy, Defense Analyst at GlobalData, comments: "Naval forces have traditionally relied on seasoned sonar operators to detect the specific signals coming from a threat. With the advancement of technology in the combat systems, sonars are becoming more sophisticated and capable, so the burden on sonar operators is diminishing through the utilization of technologies such as machine learning and artificial intelligence."
Hull mounted sonars provide a versatile underwater sensor capability that can be used in a wide range of underwater defence missions. Some of the major hull mounted sonar procurement initiatives during the period include the US Navy's high-value programs to acquire Light Weight Wide Aperture Array (LWWAA) sonar and AN/SQS-53C sonar array for multiple classes of naval vessels including the Virginia-class submarines, Arleigh Burke-class destroyers; and the upcoming FFG(X) Guided Missile Frigates among others.
Sevi concludes: "Along with the growing proliferation of stealth technology, the demand for advanced sonar systems such as integrated sonar suits, passive and active sonobuoys, with counter-stealth features is expected to grow in the near future."